Cray has updated its scale-out, parallel access, Lustre-using Sonexion array with what it calls the "2000" product - providing 50 per cent more capacity and performance than the previous 1600 product in the same footprint.
The 2000 delivers in excess of 45GB/sec bandwidth to a Linux cluster using Cray Cluster Connect, and has 2PB of usable capacity in one rack. The individual SSUs can now store up to 360TB each using 6TB 7.2K SAS disk drives.
Theoretically it can scale to more than 1.7TB/sec performance in a single file system
There is what is called a de-clustered parity protection scheme, Grid RAID, which rebuilds disks up to 3.5x faster than RAID6.
Sonexion 2000 can use Lustre HSM and data movement facilities in Lustre using Cray's Tiered Adaptive Storage Connector for Linux.
Cray says the Swiss National Supercomputing Centre, the UK's Met Office, Los Alamos National Laboratory and the Army Research Laboratory in the United States have already signed up for the Sonnexion 2000.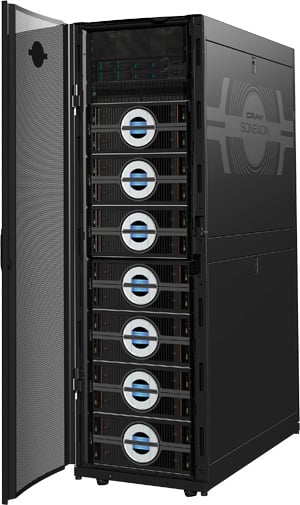 Sonexion rack
Seagate, which owns Xyratex, the builder of the ClusterStor arrays on which Sonexion is based, must be very happy.
Competition in the very high capacity array area is fierce. Fujitsu recently introduced its Ceph-based CD10000. RedHat has its Gluster cluster. There's also DDN, and IBM with its Elastic Storage software.
Get a Sonexion 2000 datasheet (pdf) here and a brochure (pdf) here. ®