Follow the leader
Depending on whom you decide to support, you'll be tasked with a completely different mission, which is a nice way of adding in some replayability. There's even a concertina effect, with subsequent missions slightly affected by the power shift between the two leaders.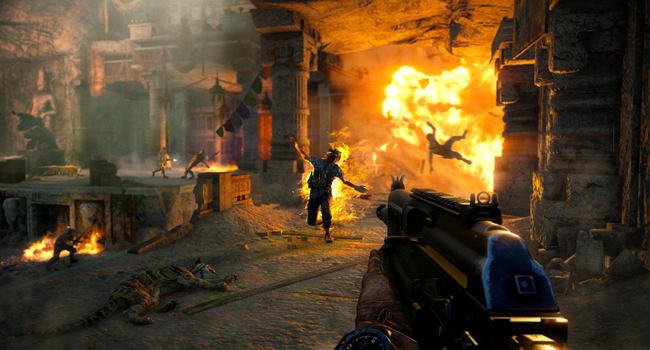 Heated exchange
You'll also get to choose Ghale's upgrade path by opting for abilities from the Elephant or Tiger skill trees. The passive type (the Elephant set) include health upgrades, fire resistance and suchlike. By contrast, Tiger set are rather fiercer, and include the ability to perform double takedowns and more.
Crafting returns too and involves yet more sewing of wallets and gun holsters from the animal hides you'll collect as you hunt. I'm not quite sure why gaming heroes are seemingly great DIYers but it's an essential activity nonetheless.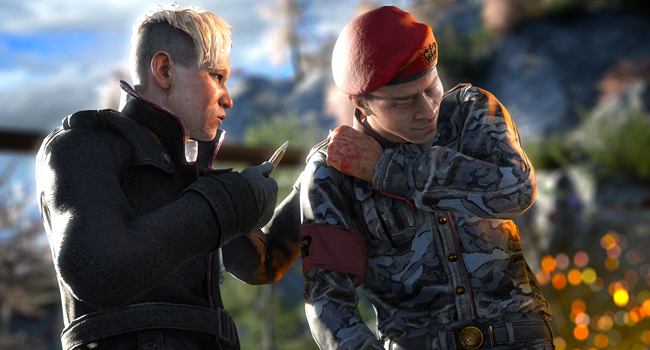 Hang on a Min...
To add one further injection of variety, there's even a co-op mode that activates once you hit the game's second act. Taking a buddy along is superb and instantly changes your approach and tactics. The only drawback is that they won't be able to help you progress the campaign – but who cares when there's two of you charging into an encampment on elephants?
The Reg Verdict
I don't doubt that the success of Far Cry 3 has cemented what we might now expect from the series going forward. That means a mental villain, clever use of first-person animations, a dynamic environment and, if I'm honest, a makeweight story.
Far Cry 4 doesn't just mimic its predecessor's potent formula though, it also improves upon it, and as a result is easily entertaining enough for it to be considered amongst the frontrunners for game of the year. What I do hope is that Ubisoft now gives the franchise time to breathe and evolve, rather than add it to the yearly production line. ®