This article is more than 1 year old
PHONDLESLAB-ULOUS: Motorola Moto X Android phablet
The little big phone
Review So, you want a Nexus 6. And why not? It's a cracking bit of kit. But to my mind it's a bit big and a bit expensive. And as for personalisation, forget it. Perhaps then Motorola can tempt you with the 6's smaller, cheaper and altogether more modifiable little brother, the new Moto X?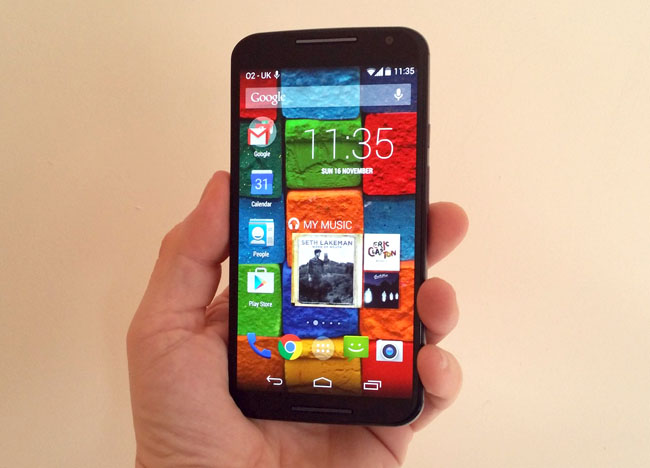 Not such a handful: Motorola's Moto X
The original Moto X, though nice enough, was a bit all mouth and no trousers. It looked lovely and had some interesting software features but packed a processor and screen that at best could be called middle-of-the-road. The new Moto X moves the game forward quite a bit thanks to packing a much larger, higher definition screen and a beefier CPU. Pleasingly it allowed us Brits have a proper fiddle with the Motomaker personalisation options from launch.
In terms of specs, what the new Moto X offers is a rather good 5.2-inch 1080 x 1920-pixel, 424ppi AMOLED screen, a Qualcomm MSM8974AC Snapdragon 801 chipset which features a quad-core 2.5 GHz Krait 400 chip, the Adreno 330 GPU, 2GB of RAM, 16GB or 32GB of non-expandable storage and a 2,330mAh fixed battery. That's a pretty solid package even in these days of Snappy 805 chipsets and QHD screens.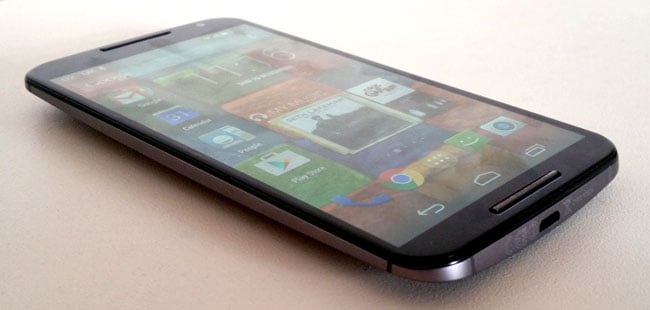 Curves are the new black
If the innards are a bit commonplace, the body is less so. The new Moto X is stylish and well made in an HTC One sort of way. The curved rear, gun metal frame and front panel covered entirely by a sheet of Gorilla Glass 3 – which chamfers at the edges to meet the metal frame in the vertical axis – combine to make the new X a thing of beauty.
For my money it's the most handsome smartphone on the market at the moment, just shading the HTC One and kicking the Apple iPhone 6 and the Sony Xperia Z3 in the wedding tackle.
It's a pretty light and compact device too. At 144g it weighs much less than the 5.5-inch iPhone 6 Plus (172g) and at 141 x 72.5 x 10mm it's shorter than the 5.1/5.2-inch Android competition like the Samsung Galaxy S5 and Sony Xperia Z3. Taken in the round, it's the smallest big smartphone you can buy and ergonomically elegant.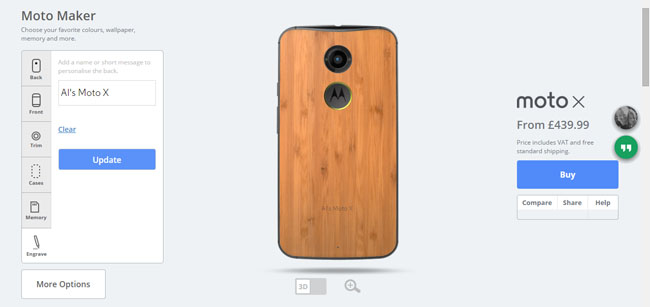 BYOD? Build your own device: customisation options abound
The icing on the design cake are the various trim options, which give you 500 combinations – and that's before you start having stuff engraved on the back and emblazoned on the startup screen. This sort of cosmetic flim-flammery may seem pointless to hard-bitten Register readers, but coughing up an extra £20 to have the back of my phone covered in bamboo and engraved with the words "Al's Moto X" is, I must admit, quite alluring.