This article is more than 1 year old
PHONDLESLAB-ULOUS: Motorola Moto X Android phablet
The little big phone
Vocal arrangements
The Moto X's funky design only flatters to deceive in one place. At first glance I thought the new X had front-facing stereo speakers like the new 5-inch Moto G. It doesn't. The matching grilles are for the earpiece and mic and there's only one speaker in place here. This isn't the end of the world as the single speaker below the screen does a good job and is plenty loud enough but it still grates a bit that Motorola offers stereo on a device costing less than a third the price of the X.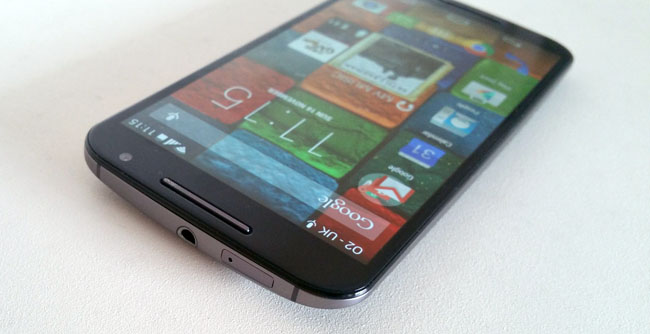 Audio jack and nano SIM slot at top
There's nothing unusual or outstanding about the new Moto X's 13Mp f/2.25 main camera or the 2MP webcam. Both are perfectly serviceable and benefit from a blessedly simply UI. I don't know this for a fact but I suspect both components are the same as those found in the new Motorola-built Nexus 6. Like the Nexus 6, the Moto X can shoot 2160p/30fps video, and shoot it rather well too, though doing so can fill up the internal storage rapidly.
Like the original Moto X, the new handset runs Android (here it's v4.4.4) in a very close to stock form. Yes there are few additions but, somewhat uniquely for OEM extras, they are mostly worth having, especially the ones that make use of the X's little coprocessor, which enables it to react to gesture and voice commands while still effectively in standby.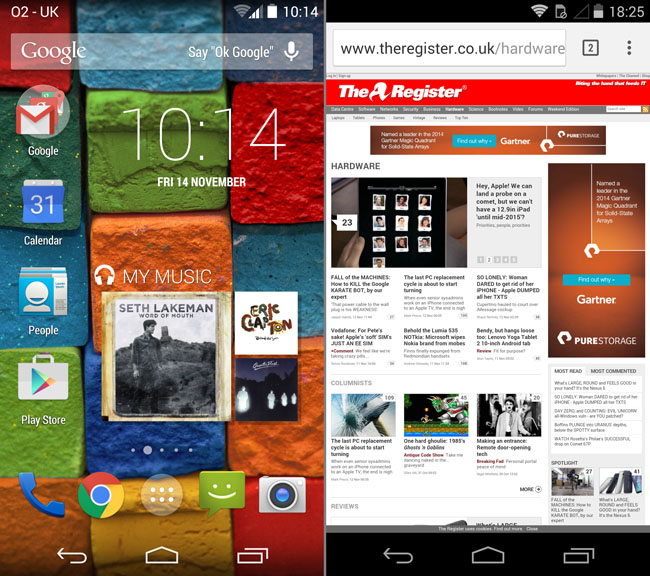 The UI is very close to stock Android: homescreen and browser
You can specify the command to wake the X. I tried the Motorola-recommended phrase "Listen Up Moto X" and "Wake the fuck up shithead" and both worked a treat. Thanks to four microphones and some IR sensors (see below) anything you say to the X, or any gesticulations you make (a nudge or moving your hand across the face of the device 15cm above), tend to be picked up first time and interpreted correctly.
The old Moto X used the single ambient light sensor to detect gestures but the new model adds an infrared rig that consists of three IR emitters and one receiver. Shine a bright torch at the bezel and you can the sensors arrayed above and below the screen. The result is that you can be far more casual with your gestures than you needed to be with the original Moto X.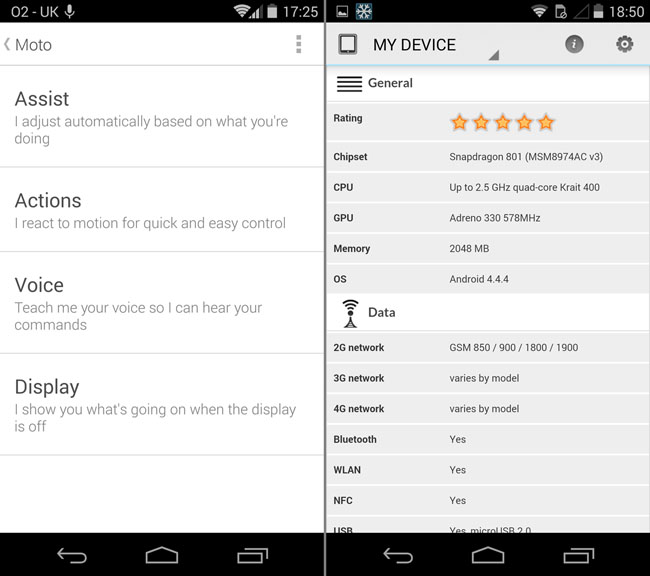 Moto actions now all in one place and spec overview
There is also a feature called Attentive Display, which, when toggled, can override the display's sleep settings, thus keeping the screen on when you're looking at it and putting it to sleep faster when you're not. We've seen variations on this idea on Samsung Galaxy devices but here the implementation is more subtle.