This article is more than 1 year old
PHONDLESLAB-ULOUS: Motorola Moto X Android phablet
The little big phone
Organic Android?
The settings for active notifications (that's notification on the lock screen in plain English), voice commands and gesture controls are now managed via the Moto app, which also includes the settings for the Motorola Assist profile manager. In the previous Moto X they had their own panels in the Settings app. The new arrangement is more elegant.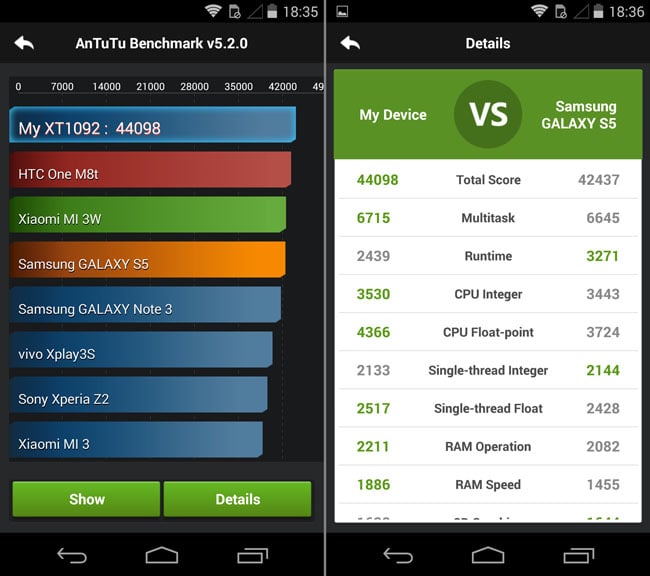 AnTuTu benchmarking glory
It is a testament to the degree of self-restraint exercised by Motorola's engineers, and no doubt the direct involvement of Google, that the extra functionality built into Android à la Motorola feels organic. HTC, Samsung, LG and the rest of the guys in the Android band could learn a thing or two from Motorola on this front.
With only a 2,330mAh capacity battery, the new X doesn't have noteworthy stamina but it's not bad either. Looping a 1080p MP4 file drained the battery in just shy of eight hours. When I pressed the Moto X into everyday use, I found I managed two days of medium intensity use from a charge. I never had less than a full day out of a charge, even under intensive use.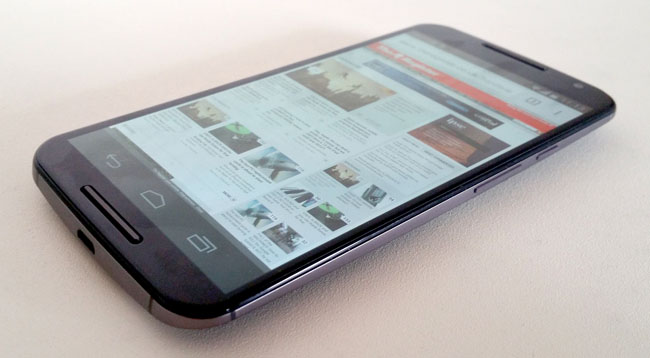 Motorola's Moto X: you get what you pay for
What with the new X being such a leap forward from the original you'd expect the price to have risen. And so it has. At £420 for the 16GB version it's over £100 more than the original Moto X but then you are getting a lot more kit for your cash, so as far as value for money goes, it still scores well. It's just a shame that at the time of writing none of the major UK cellcos seem to be offering the Moto X on contract.
The Reg Verdict
Technically, the new Moto X can't quite compete in bragging rights with the latest super-flagships. Yes the screen, processor, camera and battery capacity all are par for the course, but it's the course as it stood six months ago. In the world of Android handset development, six months is an almost geological length of time.
Still, in terms of design, build quality, usability and ergonomics, the new X is up with the very best. And to be fair the price reflects the less than cutting edge internals. The absence of a microSD card slot will be a deal breaker for some, the merely average run time from a full battery charge the same for others. But for £420 I still think the Moto X is a rather impressive lump. And being a Motorola, even Lenovo-owned Motorola, you should get new versions of Android sooner rather than later. ®

PHONDLESLAB-ULOUS: Motorola Moto X Android phablet
Second generation phab phone with a 5.2-inch 1080 x 1920-pixel, 424ppi display, a quad-core 2.5GHz Qualcomm Snapdragon 801 chipset, 2GB of RAM and 16GB or 32GB of fixed storage.
Price:
£419 (16GB), £459 (32GB) RRP