Upstart gadget maker Jolla announced plans to produce a tablet via a crowdfunding campaign on Wednesday – and within mere hours, its fans had pledged well over the asked-for amount.
The Finnish firm launched its campaign on Indiegogo with a goal of raising $380,000, and as we go to push the big, red "publish" button on this story, contributors have already kicked in more than twice that sum.
The proposed tablet will run Sailfish OS, the Linux-derived smartphone platform that Jolla cobbled together from the tattered remains of Nokia's MeeGo project.
Jolla itself was founded by a bunch of ex-Nokia engineers who were purged when Nokia's onetime CEO, Stephen Elop, decided to cancel its MeeGo plans in favor of building devices based on Microsoft's Windows Phone OS.
Jolla currently has one mobile phone model on the market, with limited availability across the EU, Norway, Switzerland, Russia, Kazakhstan, India, and Hong Kong.
With its new tablet – announced just one day after Finland's Nokia revealed that it was back in the fondleslab business with a new Android device of its own – Jolla will be taking aim at Apple's iPad mini 3 by offering a small, sleek fondleslab with a high-resolution display and high-end design aesthetics to match.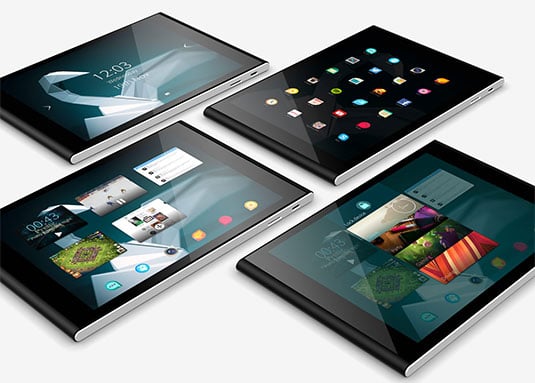 In its ideal world, Jolla would make tablets – and it thinks it can with your help
"Jolla design is all about functionality, minimalism and style," the Finns boast on a website devoted to the project. "The front of your tablet will be dedicated to viewing what's on screen, without any design distractions. Sailfish OS is all about logic, consistency and understanding intuitive movement. With your Jolla Tablet, you'll experience a completely different way of interacting with your device."
The Jolla slab will reportedly have a 7.85-inch IPS TFT screen running at 2,048-by-1,536 resolution, resulting in 330ppi, compared to the 326ppi of the iPad mini's Retina Display.
Under the hood will be a quad-core Intel processor clocked at 1.8GHz – which Intel tells us will be based on the Atom 3700 series – backed by 2GB of RAM, 32GB of EMMC storage, and a microSD slot that supports cards up to 32GB. It will have front and rear cameras, 802.11a/b/g/n Wi-Fi, Bluetooth 4.0, GPS, a handful of sensors, and a 4,300mAh battery.
But the big selling point, we're told, will be that unlike iPads and Google-backed Android slabs, Jolla's tablet will be completely open. Sailfish OS itself is open source, and Jolla has pledged never to sell or share customers' data with anyone.
"There are no back doors or anything third parties could use for monitoring your activity," the firm claims. "Together with the open source community, we're continuing to strengthen our privacy capabilities at every opportunity."
Indigogo contributors have already claimed the first two batches of the Jolla Tablet, at $189 and $199 per slab, respectively. Jolla has since added a new batch of 2,000 that will go to contributors who pledge $204, and there are 21 days left before the campaign closes.
Would-be purchasers are encouraged to contribute to the development of the Finnish fondleslab by participating in Jolla's online community forum, and the tablets are expected to begin shipping around May 2015. ®