This article is more than 1 year old
Data-center upstart grabs Wozniak, jumps into virtual storage fight
Primary Data launches at EMC and Quantum with 'data hypervisor'
A fresh startup called Primary Data reckons it will reinvent "file virtualization" for software-defined data centers – and thus take on EMC's ViPR and Quantum's StorNext.
Primary Data, cofounded by David Flynn, made the boast as Apple cofounder Steve Wozniak announced he has left Fusion-io to join Flynn at Primary Data as chief scientist.
That's interesting because in 2005 Flynn cofounded server flash card startup Fusion-io, which Wozniak joined in 2009.
In June this year, Fusion-io was bought by SanDisk for $1.1 billion. Flynn and cofounder Rick White had left before the sale, and started up Primary Data in the second half of 2013.
Now Flynn and Woz are back on the same team – and Primary Data is emerging from stealth mode to reveal an outline of what it's developing.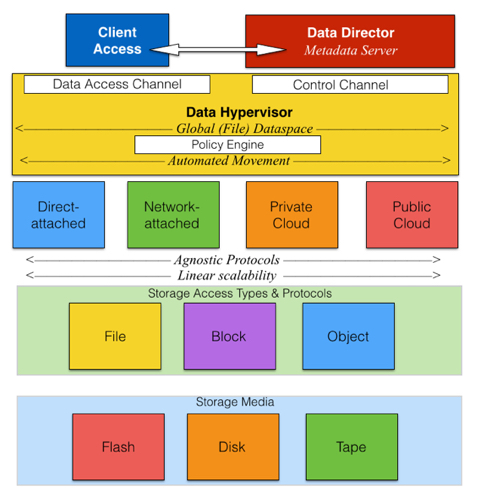 Primary Data's data virtualisation technology
Flynn, Primary Data's CTO, said: "Data virtualization is the inevitable next step for enterprise architectures, as it seamlessly integrates existing infrastructure and the full spectrum of specialized capabilities provided by ultra-performance and ultra-capacity storage resources."
The technology defines a "data hypervisor" that hides all the storage hardware and software below a global file namespace. There are separate channels for sending and receiving data, and for controlling access to the stored data.
Admins can set policy definitions for placing and moving information, with rules reflecting storage performance, price and protection needs.
The data hypervisor allows clients to dip into the storage systems in a protocol-agnostic way. Primary Data's software does the hard work underneath to provision capacity and keep the bytes in line.
This reminds El Reg of EMC's ViPR-like abstraction layer, and Quantum's StorNext file virtualisation product.
Primary Data's hypervisor can migrate information between file, block and object storage tiers as required. These tiers can be direct-attached storage, network-attached storage, and private and public clouds.
We're told that "a full complement of data services enable seamless linear scalability of both performance and capacity."
The Data Director is the management interface; here's a screenshot of its GUI in operation, which indicates some of the things it can do: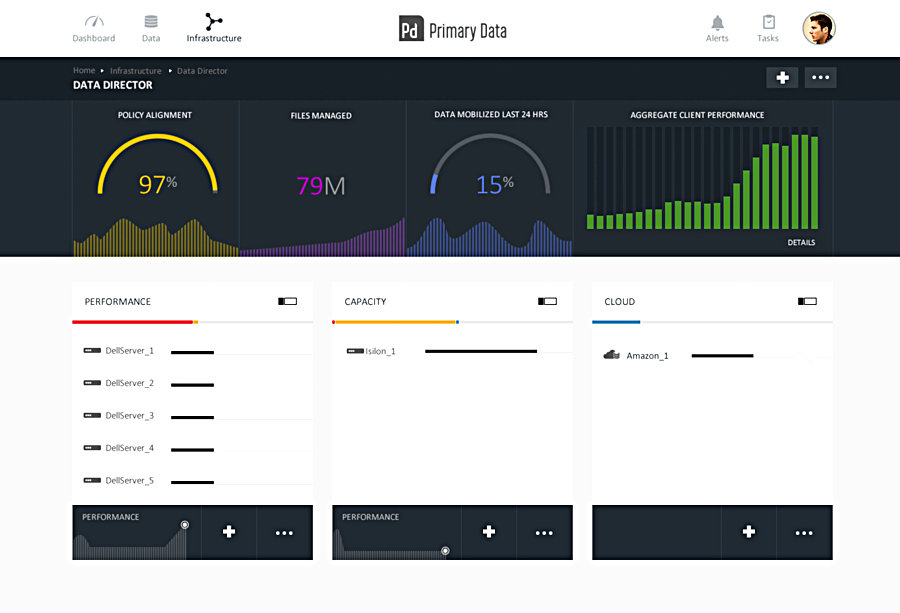 Primary Data user interface (click to enlarge)
Dell servers and Isilon storage are present in the screenshot above. Customers can plug in extra capacity when needed. It's understood the software can talk file access protocols (CIFS/SMB), block protocols (FC, FCoE, iSCSI), object protocols and cloud APIs.
Will tape actually get a look-in? Primary Data's announcement doesn't specifically mention it. Presumably there'll be support for LTO, if anything. Which interfaces and access protocols Primary Data supports will probably be mediated by business need and opportunity size.
Overall, software-defined data centre platforms are emerging through vendors: EMC's VMware is one player, and the OpenStack lot another. EMC is probably the leading storage virtualization player within the software-defined data centre space – with its ViPR platform at present, and VMware's collection of constructs like VSANs and VVOLs providing separate elements within the ESXi world.
StorNext is primarily a media and entertainment, oil and gas, and related application area file virtualization play, it seems to us. Quantum does't have full-scale software-defined or storage virtualization ambitions at an enterprise data centre level. Primary Data does.
An extract from a report by Gartner analysts Dave Russell talks about the background to Primary Data's activities: "SDS [software-defined storage] abstracts storage capabilities dynamically derived from physical or virtual devices and/or services – independent of location or class of storage – which offers agility and delivers quality of service (QoS) while optimising costs. While SDS is still largely a vision, it is a powerful notion that could revolutionize storage architectural approaches and storage consumption models over time."
Primary Data's ambitious technology will be available first as an integrated platform, with pricing to be announced some time next year. The company is already working with some partners, and it seems happy to talk to more if you get in touch via its website. ®