Bittorrent is taking Sync out of beta with an alpha version of Sync 2.0.
(Look, it's not Vulture South's fault. That's what the outfit says, right here.)
The premium version it's announced – US$39.99 a year – claims unlimited-size file storage, and is pitching the strong crypto and distributed storage as offering better security than competitors like DropBox, Google Drive, or MS OneDrive.
Bittorrent also says personal information isn't stored in its cloud, so privacy should be better.
The move from Sync to Sync 2.0 will formally happen in 2015, but users can apply to try out the alpha as soon as it's available.
As well as access to very large folders, Bittorrent says Sync 2.0 will let users set ownership and permissions on shared folders, and will maintain folder consistency across desktop and mobile devices.
The Sync 1.2 mobile-to-mobile feature is going to be turned into its own app, the Bittorrent post by Eric Pound states, for iOS, Android and Windows Phone operating systems.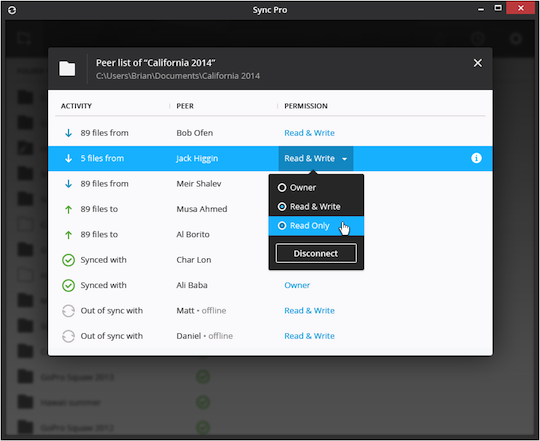 Coming in Bittorrent Sync 2.0 - selective permissions
The pro version, when it launches, will have other goodies like selective file sync, so users can save space on mobiles or tablets; the ability to change permissions on the fly; and an auto-sync so that all devices with the same Sync 2.0 profile will keep designated folders in sync automatically. ®