Huawei: KRYDER STORAGE CRISIS is REAL and 'we're working on it'
The shark threatening to eat big data just got bigger
---
Huawei's chief storage boffin says the company has looked at the looming crisis in storage technology with concern.
Until 2010, the cost of storage per dollar had dropped exponentially. The decline has been dubbed the Kryder rate, or "Kryder's Law", a reference to an article in a 2005 issue of Scientific American of the same name where Seagate CTO Mark Kryder declared that disk drive areal density would more than double every two years, meaning disk drive capacity would do likewise.
But just as semiconductor density over time has diverged from Moore's Law - it's no longer doubling every 18 months - the Kryder rate has diverged too, as we described here.
The divergence has huge implications for Big Data businesses predicated on ever-cheaper storage. "It's not that Big Data won't happen," David Rosenthal, the veteran engineer who highlighted the crisis, told us recently, "but it will be more expensive than people realise."
"We worry about that," Cameron Bahar, Huawei's CTO of Storage, told El Reg. "We work with the media vendors - the drive vendors and the NAND memory vendors - and we're investing in algorithm guys to see how we can get better utilisation. We want low power and high densities at cost points that are ten times lower than today," he said at a presentation in Amsterdam Thursday.
Bahar said the team was buzzing with the implications of the Register story. Even in the storage industry the exponential capacity increase is somewhat taken for granted. But not at Huawei, said Bahar.
"We may have some joint ventures with memory vendors and drive vendors to do that," he said.
Kryder's Law isn't a smooth curve but a superposition of S-curves representing each new storage technology. But given the increasing cost of new technologies (the next generations, HAMR and BPM, are particularly complex and hairy) each one is being kept on the market a little longer, to ensure a return. The net result is a break with Kryder.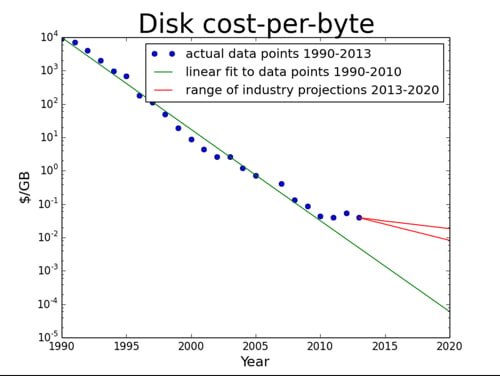 We quizzed Bahar at the European launch of Huawei's OceanStor V3 storage platform, the Chinese giant's new storage OS that was written from scratch. Bahar said Huawei had "no legacy to protect" making new approaches to virtualisation and backup; there's a continuous agent performing backups.
Bahar is a veteran of cloud storage, having founded Parascale in 2002. Parascale found itself doing what Google and Amazon were doing on their own systems, building a vast storage network in real time. Parascale was sold to HDS in 2010 where Bahar stayed another two years. Huawei snapped him up two years ago to lead its new storage efforts.
Bahar told us he had been used to working with 40 engineers - 25 devs and 15 doing testing - which over the years he felt was an optimal sized team.
Huawei has some 70,000 employed in R&D out of a workforce of 150,000. ®
David Rosenthal's Seagate talk on these trends can be found here.