This article is more than 1 year old
Samsung Galaxy Note 4: Spawn of Galaxy Alpha and a Note 3 unveiled
You don't need to follow trends to be stylus
Review My, but how time flies. It seems like only yesterday when The Reg called up and said: "Al, we've got this huge phone with a stylus from Samsung called the Galaxy Note. Fancy giving it a once over?" I don't recall being that enthusiastic.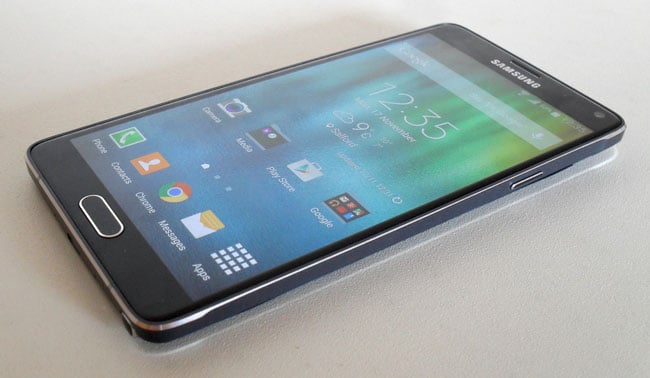 Making it big: Samsung's Galaxy Note 4
Around the time of that review back in December 2011, nobody, least of all me, foresaw how the phablet/tablette/BFF market would balloon. But balloon it did and now we have the fourth generation Samsung Galaxy Note and the release is as big a deal as that of any mobile device this year. By 'eck, who'd have thought?
In much the same way that the Galaxy S5 wasn't a quantum leap forward from the S4, so the Note 4 is more evolution than revolution when compared to the Note 3. It's much the same size and weight – the 8g difference between the 168g Note 3 and the new 176g model is irrelevant really. It also has the same size and type of screen, a 5.7-inch diamond-shaped PenTile matrix Super AMOLED affair. The battery is much the same too, 3,220mAh up a fraction from 3,200Ah. It runs on a Qualcomm Snapdragon chipset too.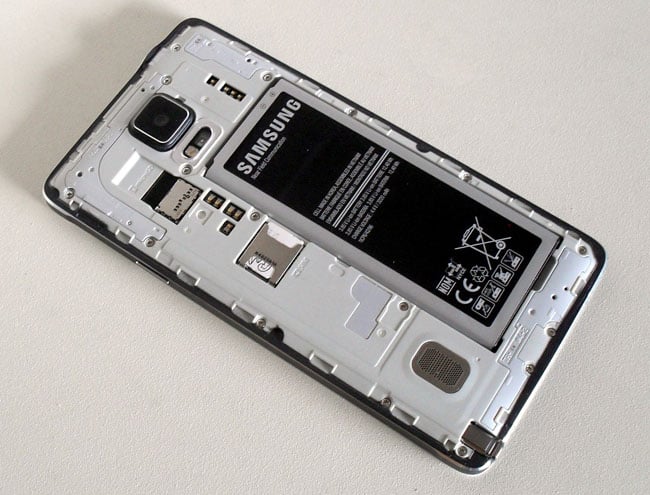 Battery and micro SD card can be replaced. Hoorah!
There are some important differences though. To start with, the display resolution has jumped from 1080 x 1920 to 1140 x 2560 pixels. Or to put in terms of pixel density, from 386ppi to 515ppi. I'll leave you ponder if the increase is distinguishable to the naked eye. I don't happen to think it is. It's a gorgeous display though, no doubt about it.
The chipset is new and shiny too. Out goes the 800 series Snapdragon component and in comes the 805. With that you get a quad-core 2.7GHz Krait 450 chip, Adreno 420 graphics wrangler and 3GB of RAM. That's a rig that constantly returned AnTuTu benchmark scores of over 47,000 meaning this Note is powerful enough to run a small town let alone a mobile phone.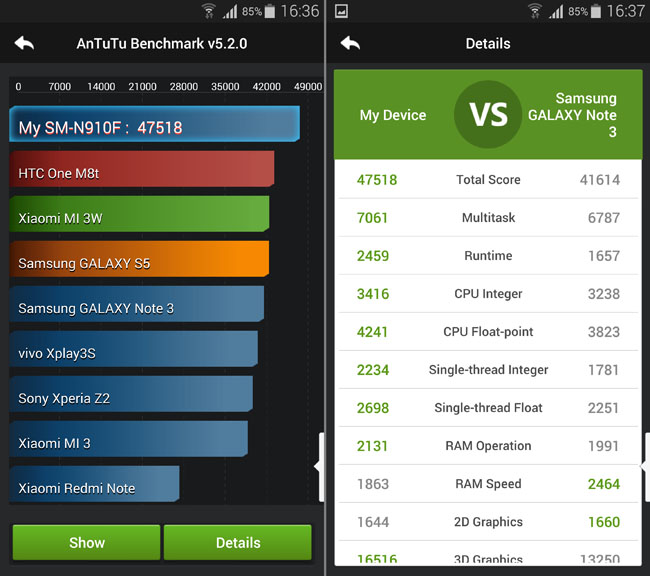 Top of the AnTuTu tree... for now
Other improvements include support from larger microSD cards (up from 64 to 128GB while internal storage is now a default 32GB), a much improved coupling of cameras including a fine 16Mp main camera and a new 3.7Mp webcam that can shoot 90 degree wide angle selfies. The new Note also gets the S5's PayPal approved fingerprint scanner.