This article is more than 1 year old
Samsung Galaxy Note 4: Spawn of Galaxy Alpha and a Note 3 unveiled
You don't need to follow trends to be stylus
Ringing the changes
The TouchWiz launcher-cum-overlay sits atop Android 4.4.4, with an update to Lollipop is due at some point, probably early in the New Year if rumours are to be believed. Samsung has been busy adding further refinements to TouchWiz, tidying it up and making it more coherent.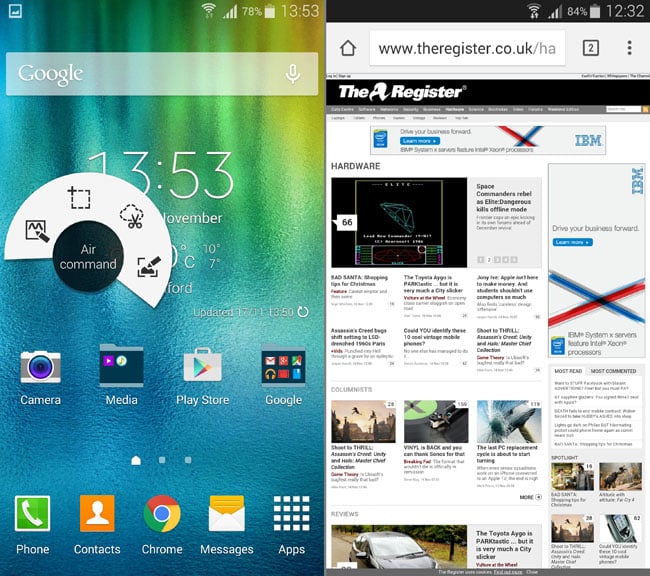 S-Pen menu and browser
As this seems to happen with every Galaxy S and Note launch, I'm no longer wholly sure if the changes I'm about to comment on are actually new to TouchWiz or merely recent but had gone unnoticed by me in previous renditions.
To start with the one-handed options seem to have been enhanced and refined. A quick in-and-out swipe from the screen edge and the dialler – or anything else for that matter – reduces in size so you can stick it in a corner and reach it with ease.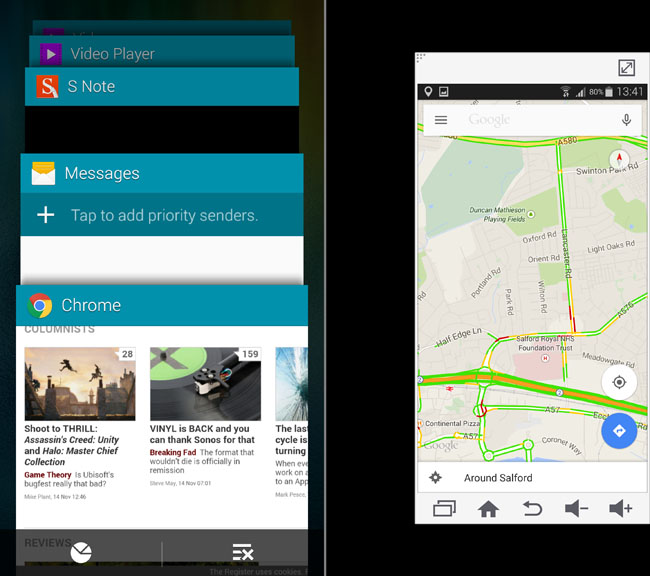 The recent apps selector is a big improvement and the one handed mode (right) works for apps and dialler
There's also a moveable side key panel that mirrors the controls below the screen. On a phablet, both these features are worth their weight in gold. Most apps can also now be made to operate in a floating frame allowing you to stack numerous open apps as you would on a PC desktop.
The ability to split the screen between two apps is still present and the list of apps that will work thus is getting longer. The app switcher has been redesigned too, so out go the silly little cards and in comes a big carousel. All useful stuff.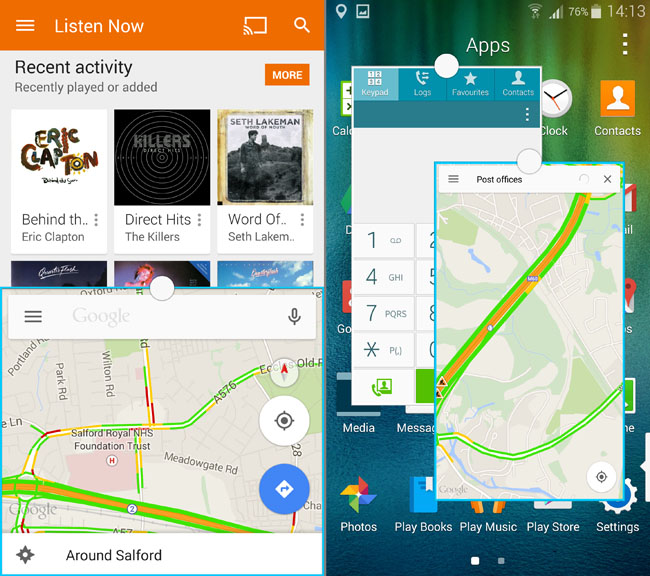 Multi-window mode and apps in frames
In fact, if it wasn't for Samsung's insistence on doubling up on Google apps – S Voice for Google Now, S Planner for Google Calendar, S Note for Keep – I could almost get to like TouchWiz in its latest incarnation.