Samsung Galaxy Note 4: Spawn of Galaxy Alpha and a Note 3 unveiled
You don't need to follow trends to be stylus
The power and the glory
Anything else..? Well, since this is in essence a mobile phone, I should say that the noise-cancelling microphone did a great job of eliminating background racket. Two people I called on the Note 4 actually commented on how clear I sounded.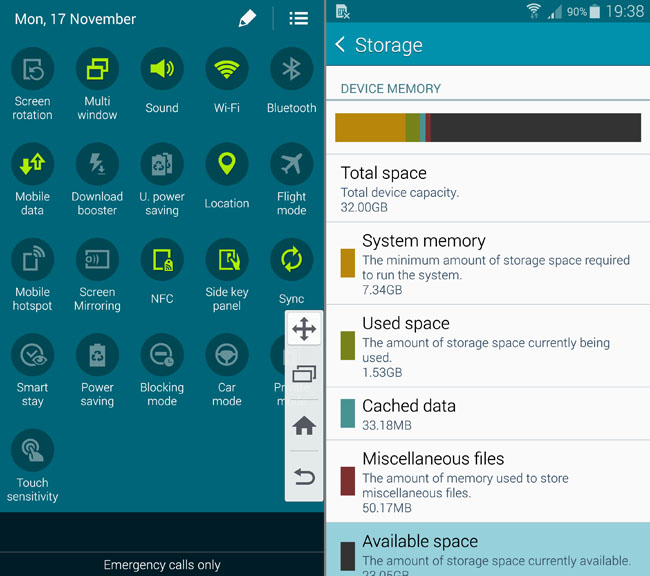 Settings abound and spec overview shows how much of that 32GB internal storage is left
There's an IR blaster so you can use the Note as a remote for your telly and the USB port supports MHL media streaming and USB On-The-Go hosting. Oh, and apparently the Note 4 is the only device that's compatible with Samsung's Gear VR headset due any day.
There's a fast charge option too, which can apparently ram 50 per cent of a full charge into the Note's battery in 30 minutes, albeit with the device switched off. This is something Samsung has cooked up itself rather than just a remarketing of Qualcomm's Quick Charge facility.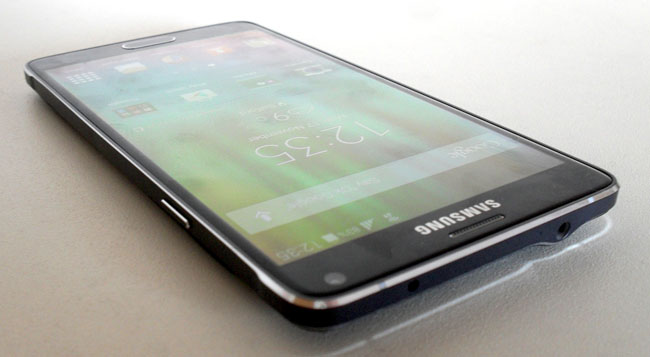 The metal highlight adds a touch of class
Alas, my review unit was missing its charger so I can't tell you how well this works. Fast Charge can be switched off in the settings menu which makes me wonder if prolonged and/or regular use of this feature has a deleterious effect on the battery.
Speaking of the Note 4's battery while it may only boast a piffling 20mAh more than the Note 3's and it has more pixels to illuminate you will still see much longer run times from each charge. No doubt this is down to the improved efficiency of the new 805 series chipset and fettling of the power optimisation by the engineers at Samsung.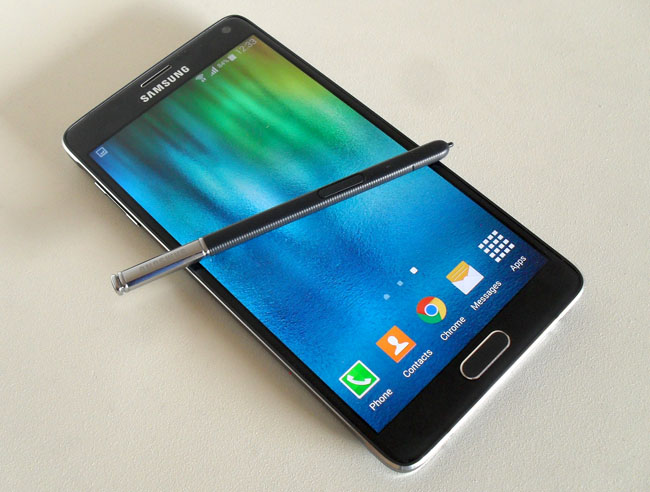 The S-Pen is now ribbed for your pleasure
In everyday (and heavy) use, which included using the Note 4 as a hotspot for a few hours, I easily managed to sail through two full days on a full charge. Looping a 1080p MP4 file took over 14 hours 30 to drain the battery. I'm happy with that.
The Reg Verdict
Looking like the result of a night of vigorous rumpy-pumpy between a Galaxy Note 3 and a Galaxy Alpha, Samsung's Galaxy Note 4 is a solid if unspectacular improvement on the previous model. The display is better if only under the magnifying glass, the chipset more powerful, the camera's superior in all ways, the design more stylish and the build more solid.
Despite a minor capacity boost, which suggested any improvement in battery life would be minimal, the Samasung Galaxy Note 4 does endure, so power management has clearly been enhanced.
The TouchWiz UI has been subject to some subtle refinements too, which makes it the least offensive iteration of Samsung's take on Android to date. At the end of the day if you want a phablet, then the Galaxy Note is the still as much the one to own as it was back at the end of 2011. ®

Samsung Galaxy Note 4: Spawn of Galaxy Alpha and a Note 3 unveiled
Android handset with a pen control, a 5.7inch, 1140 x 2560-pixel, 515ppi display, quad-core 2.7GHz Snapdragon 805 CPU, 3GB of RAM and 32GB of internal storage with micro SD expansion.