Intel offers ingenious piece of 10TB 3D NAND chippery
The race for next generation flash capacity now on
IMTF, Intel Micron Flash Technologies, a partnership between Intel and Micron, has a 3D MLC NAND technology, which will be used to build 10TB SSDs in two years.
With 3D flash a die is made up from layers of ordinary or 2D planar cells stacked (as it were) one above the other.
The news came in a webcast for Intel investors yesterday, 20 November, with Rob Crooke, veep and GM of Intel's non-volatile memory solutions group, revealing the development:
32 planar layers
c4 billion interconnect pillars between the layers
256Gbit - 32GB - of capacity in a die using MLC (2 bits/cell) NAND
348Gbit - 48GB - using TLC (3 bits/cell) NAND
The process geometry was not revealed but is thought to be 3X - 39-30nm. Also, whether or not Intel actual builds 3D chips itself has not been decided. The default seems to be that IMTF's Lehi, Utah foundry will build it.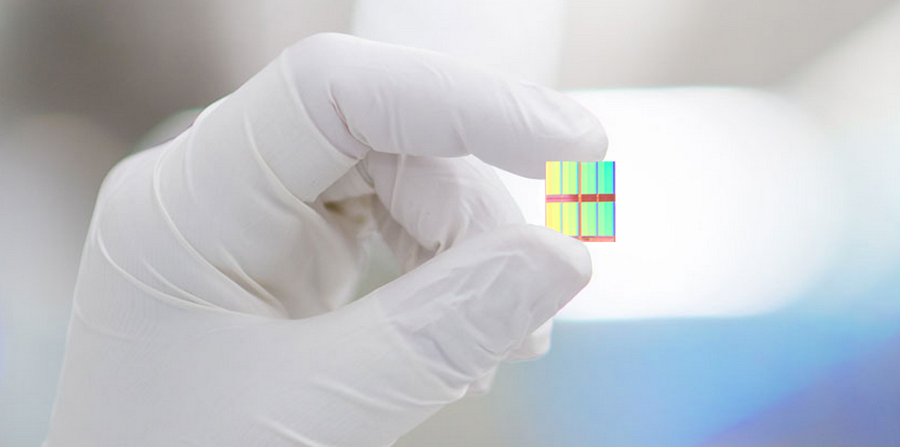 IMTF NAND die
We could expect Micron to have access to the same technology.
Crooke foresaw 10TB SSDs in two years, meaning (we'd assume) late 2016/early 2017, and promised disruptive costing, meaning (again, we'd assume) per-GB pricing nearer that of disk.
He said there could be 1TB, 2mm thick mobile device flash products using the technology as well, suggesting tablet and mobile phone storage capacity could increase.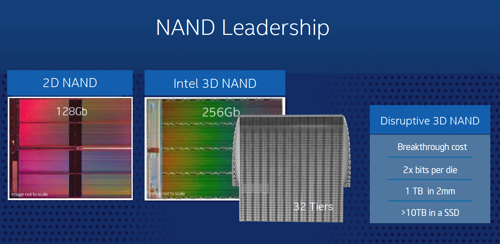 Other 3D flash initiatives are coming from Hynix, Samsung, and SanDisk, with Samsung being the most advanced.
Samsung's V-NAND is used in the 3.2TB SM1715 NVMe server flash card. Its 845DC PRO SSD is a24-layer V-NAND product using 40 nm geometry with 128GB chips.
The SSD850 PRO is a 32-layer Samsung V-NAND product, which has, by the way, a 10-year warranty. This product uses 86Gbit dies and the technology can be implanted as 128Gbit TLC dies.
Currently, Intel has a major capacity advantage (in theory at least). Another generation of 3D NAND technology can be expected from Samsung next year, with an expected capacity increase.
Hynix will, it said start to mass-produce 3D NAND by the end of this year.
SanDisk has a P-BiCS process using vertical strings of bits and not 2D planar layers. Products using it may arrive next year.
Altogether, we can expect substantial jumps in SSD and flash card capacity next year as 3D NAND production becomes mainstream. ®