First in line to order a Nexus 6? AT&T has a BRICK for you
Black Screen of Death plagues early Google-mobe batch
---
Motorola has issued a recall for an early batch of its hotly anticipated new Nexus 6 smartphones that were sold through US mobile carrier AT&T, owing to a software glitch that can reportedly causes the devices to boot to a black screen.
It seems customers who ordered a Nexus 6 before it hit the shelves received devices with the bug, which has been attributed to an incorrect software version.
AT&T retail stores have reportedly been told to return their existing inventory of the Nexus 6 and wait for new units to arrive from Motorola, which has already corrected the problem on its assembly line. Any customer who brings a defective unit into an AT&T store will receive a replacement.
Curiously, store display models were reportedly unaffected and didn't need to be recalled.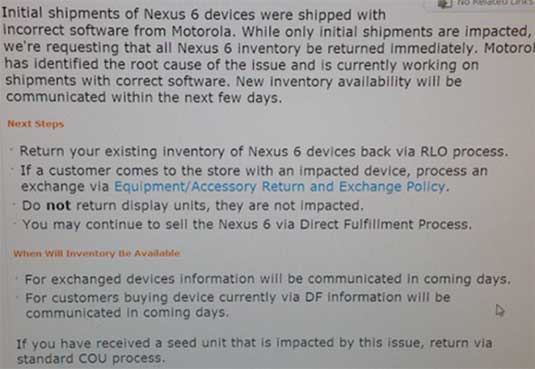 This leaked internal memo offers instructions for AT&T retail stores dealing with bricked Nexus 6 mobes
This isn't the only gremlin that has plagued Google's latest Nexus device update. Coinciding with the launch of the Nexus 6 and the Nexus 9 tablet – the first two devices to ship with Android 5.0 "Lollipop" – the Chocolate Factory began over-the-air Lollipop updates for some older Nexus devices, but not everything went smoothly.
Some owners of older Nexus 7 fondleslabs have reported that Android 5.0 runs so slowly on their devices that they became practically unusable. Google says it's looking into the matter, but no solution has so far emerged.
AT&T, meanwhile, says everything is already back to normal with its Nexus 6 inventory. A company spokesperson told The Reg the following via email:
We delivered a small number of Nexus 6 smartphones with incorrect software to AT&T customers who pre-ordered. The incorrect software prevents the phone from starting up properly. We will provide replacements for consumers whose phones are affected. The problem has been corrected and the phones currently shipping are fine.
El Reg has contacted Motorola, which manufactures the Nexus 6, to try to ascertain whether other carriers might have received buggy Nexus 6 shipments and how widespread the problem might be, but the mobe-maker has yet to respond to our query. ®