Pervert's Guide man's new book, an urban myths tome and Youth, an underrated gem
Some juicy reads for your weekend
---
Page File El Reg bookworm Mark Diston trawls through at publishing's top notch texts. Bad boy philosopher Slavoj Žižek puts Russell Brand in the shade with his latest cultural critique, while urban mythmeister Jan Harold Brunvand has revised his entertaining and enduring tome that's a goldmine for comedians and sketch writers alike. And we've a new translation of German literary great, Wolfgang Koeppen.
Trouble in Paradise
Slavoj Žižek is a Slovenian philosopher and activist who is the author of more than 50 books and the maker of the films: The Pervert's Guide to Cinema and The Pervert's Guide to Ideology.
Žižek has been quoted as saying that his work is to engage in critique, rather than to answer questions or provide theories. He evidently plays to his strengths, as he is a master of the former and decidedly sketchy on the latter.
Trouble in Paradise is dedicated to the prostitutes of the Café Photo in Sao Paolo, a bunch of elite feminist hookers. He also namedrops Julian Assange, Chelsea Manning and Edward Snowden as contemporary heroes.
The book opens with a few Žižekesque literary quotations from the likes of Ernst Lubitsch and Berthold Brecht, before updating us on global current affairs. Slavoj has been to Seoul to lecture about communism and muses on the wealth and high technology of South Korea, which simultaneously has the developed world's highest suicide rate. He is also fascinated by the apparent hermaphroditism of North Korea's leaders.
Žižek gives us his incisive views about recent events in Syria and Ukraine. He compares the contemporary neoliberal political scene to Karl Marx's critique of the German ancien régime which "only imagines that it believes in itself and demands that the world should imagine the same thing" [PDF].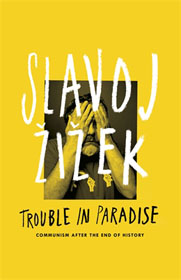 There are a veritable multitude of cultural references, both high and low brow. Julie Andrews reprises her role in The Pervert's Guide, climbing every mountain towards the pleasure principle.
Žižek was one of the few who understood the sign language translator at Nelson Mandela's funeral. Apparently it was the poor, black crowds to whom Thamsanda Jantjie was signalling and his message was: "The dignitaries don't really care about you."
There are few individuals who cut through the bullshit and are able to read current affairs like Žižek, despite the countless literary and filmic references that litter his texts, his arguments are well formed and compelling. Compared to the local revolutionary talent, he makes Owen Jones seem like a naïve, parochial youth and, in my mind, Žižek is a better stand-up comedian than Russell Brand can ever aspire to be.
He mentions the February 2014 riots in Bosnia, where the three nationalities who were killing each other 20 years ago marched together against their nationalist elites...the subtext, I guess, is: If they can do it..?
The first 150 pages of this book contains the most coherent world view that I have heard Žižek express. His is a towering intellect, he has even managed to avoid Marx's mistake of providing a prescription against the demon capitalism that he pillories so well. He reminds us how hard fought left wing victories have been: "Egalitarianism and universal welfare were conditioned by the unimaginable catastrophes of world wars and crisis."
Alas, the last 30 pages of Trouble in Paradise are somewhat disappointing. Žižek starts getting lost in Lacan and Heidegger and not only is it not very interesting, it doesn't seem very relevant either.
Still, he offers a great Orwell quote: "Every revolutionary opinion draws part of its strength from a secret conviction that nothing can be changed"
Paradoxically, Žižek reassures us that: "Only a radical leftist can be today a true conservative," and that he "hopes that the attentive reader will discern beneath the multiple topics, the communist horizon."
Slavoj Žižek is an impassioned writer who approaches his subject from every conceivable angle, some more relevant than others. Most importantly he questions everything, is hardly ever boring and – most essentially for a philosopher – rarely fails to make his audience think.

Author
Slavoj Žižek
Title
Trouble in Paradise: From the End of History to the End of Capitalism
Publisher
Allen Lane
Price
£16.99 (Hardback) on sale 27th November
More info
Publication web site