This article is more than 1 year old
Post-pub nosh neckfiller: Bryndzové halušky
Slovakia's finest, featuring spuds, cheese and ... BACON
It's onwards and eastwards this week with our post-pub nosh neckfiller as we travel to Slovakia in search of bryndzové halušky.
This traditional dish of potato dumplings (halušky) is topped with bryndza sheep cheese, and endears itself to British palates with the inclusion of bacon, the miracle powers of which to counter the effects of alcoholic excess are well know to science.
Variations on the same delicacy also grace plates in other European countries. In Hungary, it's known as sztrapacska, and apparently features cabbage.
Bryndzové halušky proved much simpler to concoct than pronounce, although any Slovakians out there will doubtless protest that fact that we didn't use authentic bryndza cheese. It's a bit thin on the ground hereabouts, so we grated up some nicely aromatic sheep's cheese. For those of you with access to a proper supermarket, feta will apparently do the job.
Here is said cheese, with the other ingredients you'll need ...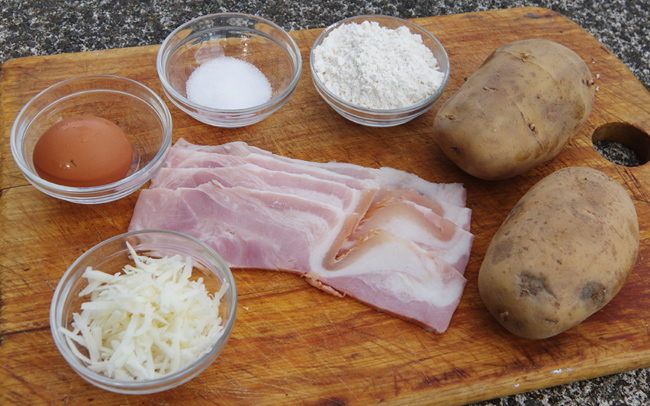 ... comprising:
Two medium/large spuds
Plain flour
Salt to taste
One egg
Bacon
Cheese
The amount of flour required depends on the size of your spuds. It's more or less an equal amount of flour to potato. The quantity of bacon is down to personal taste. We used two rashers per person, on the basis that when it comes to sliced pork, more is more.
Let's get to it, then, with our traditional cut-out-and-keep guide: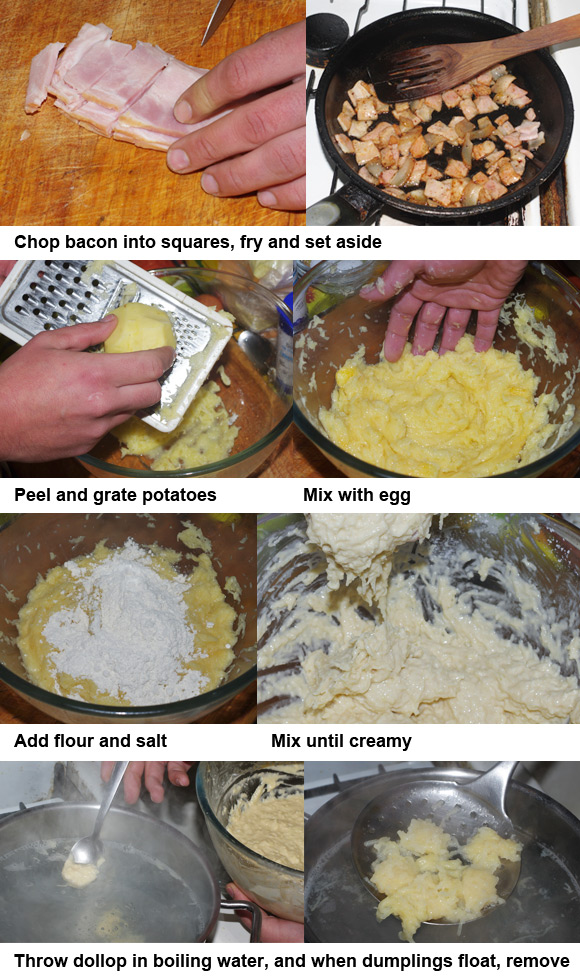 The egg element in the dumpling mix is controversial: some recipes indicate egg, some reject this. We found it helped bind the dumplings, which have a tendency to disintegrate in the boiling water if the mix isn't just right. It's best to make the batter a tad runny and do a quick boil test, adding extra flour as required. The dumplings are done when they float to the surface, and should be removed sharpish.
Regarding getting the mix into the pan, it'd be useful to have a Slovakian granny on hand to do it in the traditional way, by cutting thin slices of mix off the edge of a cutting board.
This video demonstrates the terrifying speed at which old girls can dispatch raw mix into the bubbling cauldron.
As you can see from the above guide, our method comprised dropping small dollops from a teaspoon. We'd certainly have benefited from a haluškár, the dedicated dumpling-making sieve-like contraption.
No matter, our dumplings came out just fine, and while the finished result with cheese and bacon is not going to win any culinary beauty contests, it's hearty fare indeed: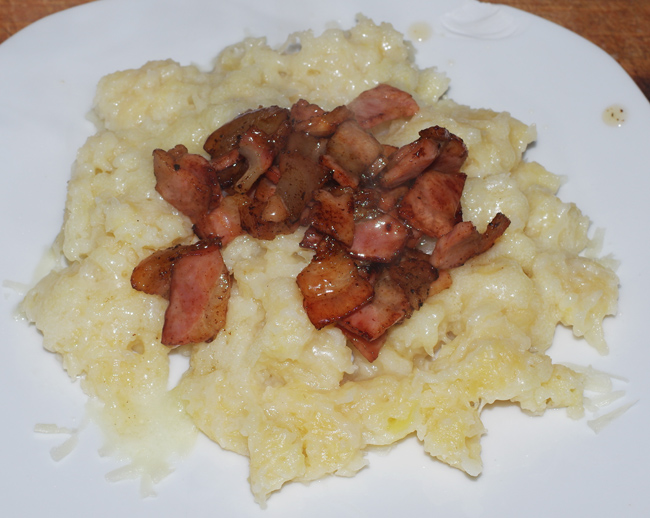 Normally, we head out to try our recipes on unsuspecting locals, but in this case we necked the lot ourselves, unable to resist the allure of the bacon topping. Here's my nephew Matthew Haines – on temporary Special Projects Bureau secondment – about to tuck in: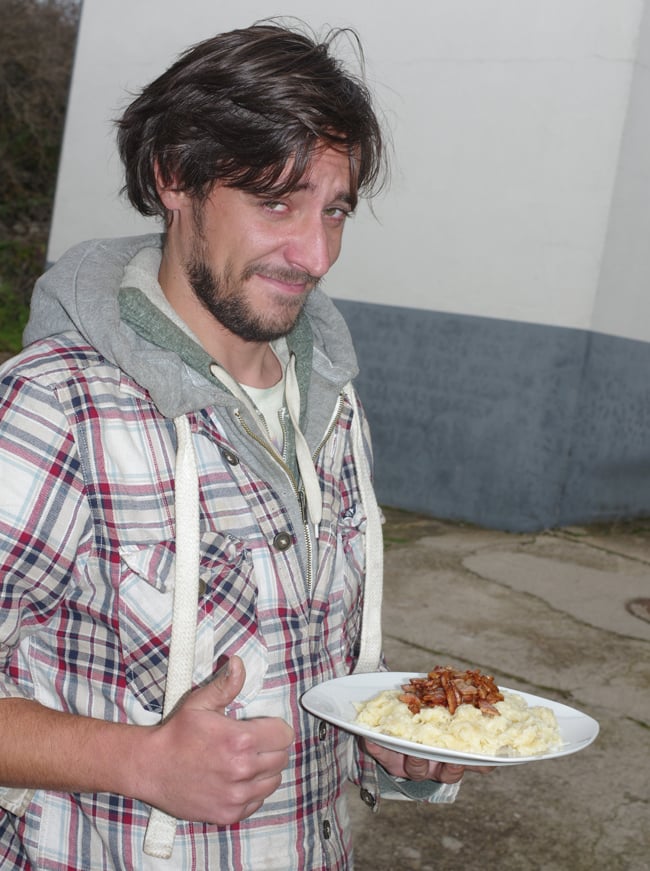 His verdict? "Well, that's all the major food groups covered. Fantastic." ®