This article is more than 1 year old
'It is comforting to know where your data centres are.' UK.GOV does not
Plus: Anons are 'wannabes', KKK says, before being pwned
QuoTW This was the week when hacktivist collective Anonymous decided to take on the Ku Klux Klan after a local chapter of the white supremacist group threatened protesters in Ferguson, Missouri.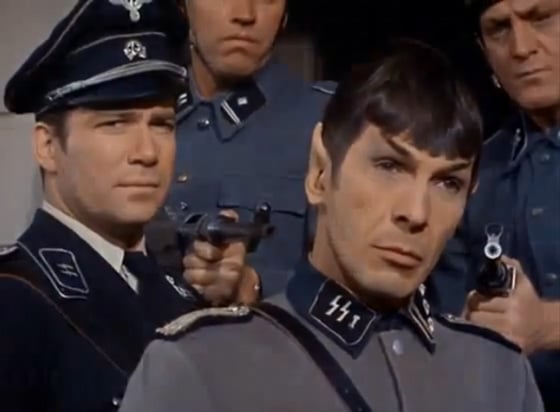 Say what you like about Nazis, they had lovely uniforms. And ears
Anonymous took out websites and Twitter accounts for the group, as well as releasing the personal data of alleged KKK members. The Klan made its threats as protests and demonstrations continue in the town in the run-up to the decision on whether criminal charges will be brought against white police officer Darren Wilson for the shooting of unarmed black teenager Michael Brown in August.
The KKK were initially unfazed by Anonymous' OpKKK threats, with @KuKluxKlanUSA tweeting taunts like:
Anonymous is nothing but a bunch of wannabes. It won't take any action. We will not be brought down by some low-lifes behind a screen.

We are continuing to read Anonymous threats with much amusement. Still no action taken. #Cowards #HoodsON
Then on Sunday, Anonymous hijacked the account and tweeted a picture of a lynched member, saying:
You should've expected us. #OpKKK continues to be a success. Freedom will prevail.
Meanwhile, the US Federal Communications Commission has asked AT&T to kindly explain why it's halting its gigabit-a-second fibre rollout over net neutrality.
The telco threw a bit of a strop last week, saying it was going to put its fibre plans on hold until the FCC makes up its mind about how free the internet should be and only give the fast connection to the two million homes it promised as a condition of acquiring DirecTV. CEO Randall Stephenson said:
We think it's prudent to just pause, make sure we have line of sight and understand to what this process will look like.
The regulator was unimpressed by this tantrum though, sending an icily professional letter to the firm requesting...
A description of whether the AT&T FTTP Investment Model demonstrates that fibre deployment is now unprofitable and whether the fibre to the two million homes following acquisition of DirecTV would be unprofitable.
...as well as all the rest of the documents relating to its fibre deployment plans and its new decision.