Microsoft surprised us by upping its Windows product numbering from 8.1 straight to 10, and now it appears it's planning to make an even greater leap in the version numbering of the Windows kernel itself.
While Windows releases use familiar marketing brands – such as XP, Vista, 7, 8 and now 10 – the underlying operating system and kernel, part of the Windows NT family, has a separate version numbering system.
For example, Windows 8.1 and Windows Server 2012 R2 both use kernel version 6.3. The most recent public build of Windows 10 Technical Preview, build 9874, uses kernel 6.4.
Today, a new edition of the Windows 10 Technical Preview, build 9888, has been making the rounds, and a few screenshots of it have leaked online. One of the more interesting things about the captures is the shot of the About Windows box, which reports the operating system version is 10.0.
The last time the Windows kernel was upgraded to a new major version number, believe it or not, was when Windows Vista brought us to version 6.0 – and say what you will about the much-maligned Vista, we've been stuck on version 6.x ever since.
It's hard to say why Redmond chose to skip kernel versions 7, 8, and 9 – although having the kernel carry the same version number as the OS could make things less confusing.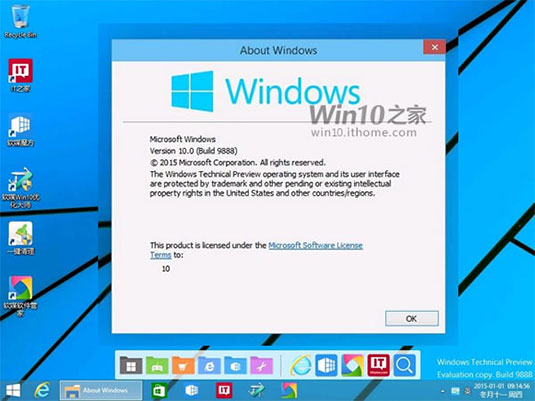 Leaked screenshots show the Windows kernel has been upgraded ... or has it just been given a facelift?
Some have speculated, however, that there really is a major kernel change afoot for Windows 10, and this is all part of Microsoft's effort to unite the desktop, server, and mobile versions of its OS around a single, common core.
Ever since Satya Nadella took the corner office, Microsoft execs have done much tub-thumping about Redmond's new "One Windows" strategy – although they know as well as we do that delivering a single platform that runs identically on every device in every form factor would be virtually impossible (and it's not what customers want, either).
Just when build 9888 might make it out of private release and into the hands of mere mortal members of the Windows Insider program isn't clear. Microsoft hasn't committed to any specific release cadence for Technical Preview builds, and not every build necessarily goes public.
With Microsoft closing in on Apple in terms of OS version numbering, however, perhaps the more pressing question is whether OS X or Windows will be the first to have it go, as Nigel Tufnel once observed, to eleven. ®