This article is more than 1 year old
Coming clean: Ten cordless vacuum cleaners
Incredible suckers
Product round-up The DIY market for power drills cracked going cordless years ago, but for domestic heavyweights such as an affordable vacuum cleaner, tripping over a six-metre mains cable has been a weekend tradition for most UK households. Really, how much R&D does it take to get a good cordless vacuum cleaner? Is the wait over yet? El Reg's domestic goddess Jennifer Newton finds out.
Assuming your home doesn't have bedrooms in the double figures, going cordless may well be a realistic option, with smaller homes and urbanites more easily catered for. Robot vacs aside, there are two types we'll be looking at here: uprights and handhelds.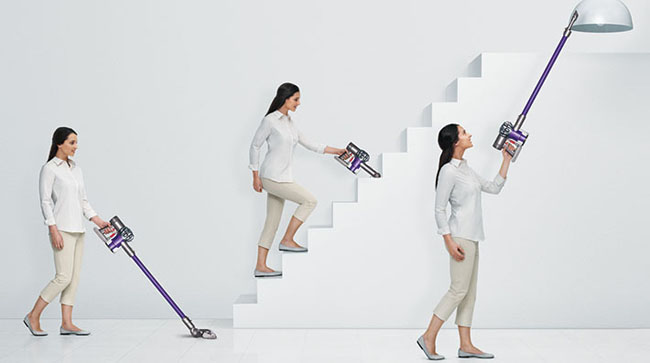 Dust busting the Dyson way
The tech behind the latest cordless uprights (aka stick cleaners) has improved in recent years to deliver strong suction and a battery life of up to an hour, and let's face it, who wants to be waving a vacuum cleaner around for longer than that in one stint?
That said, manufacturers are desperate to add the word "ergonomic" claiming improved manoeuvrability and ease of use. On the whole, this hold true, as these stick cleaners are lighter to use and, thankfully, easier to store.
Shaking the vac market this year was the announcement of new EU regulations that demand that vacuum cleaners, as of September 2014, need to be less than 1600W. This figure will be further reduced to 900W by 2017. However, this directive won't impact on the cordless market as the Wattage quoted on these devices is well below these ratings.
Still, this raises the old question of why power consumption is still so relevant. As the deity of vacs, James Dyson, said: "High power doesn't always equate to efficient cleaning". Although, some still reeling from the EU's regulations might add that it helps. Incidentally, when it comes to power ratings on cordless vacs, a lot of manufacturers are quite shy of quoting figures, preferring instead to show battery voltage, which isn't especially helpful.
Give it some stick
We've five handhelds and five uprights in this round-up and we've quoted prices you should expect to pay from retailers. Kicking off with the sticks, all five on test are bagless, with washable filters, motorised brush and use Lithium-ion batteries for consistent power with no fade-out – earlier generation cordless models could suffer from this.
This selection is suitable for hard or carpeted floors with dusting and crevice attachments included in all except the GTech. The now standard two-year warranty is offered apart from the Vax, which has a confidence boosting six-year guarantee.
AEG AG3013 ErgoRapido

It's the affordable designer choice that sits on a handy recharge stand looking über smart in its tungsten metallic livery and will look at home in any bachelor or urban pad. AEG has gone for European style: that is, a vac that looks good left out to grab at any moment for spot pick-ups without effort.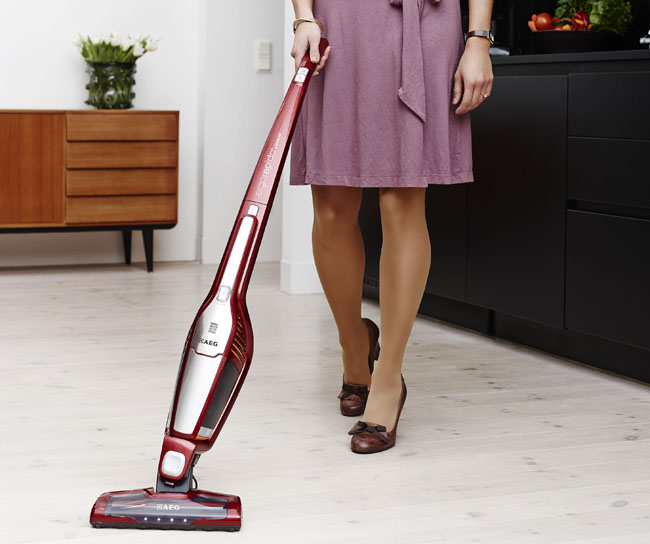 The suction power lacked the oomph of the Dyson DC59 and Gtech Ram (see below), but as a second sucker in the home, it's good with 35 minutes run time, but only 14 minutes on boost mode from a charge of four hours.
On test, I found more dirt and dust bunnies, however, were vacuumed up compared to other cordless makes due to the bright LED lights on the nozzle revealing the fluff and stuff below. Noise level was average compared to all others on test with AEG saying it comes in at 73dB.
The ErgoRapido lays flat to get under furniture and the 180-degree swivel head made awkward navigation of furniture easier to handle than a normal upright. And not getting too excited, but worth a mention, the brush head has been updated with a new hair-removing function on the brush roll. This ends the days of scissors at hand to cut away endless tangles that clog up cleaners.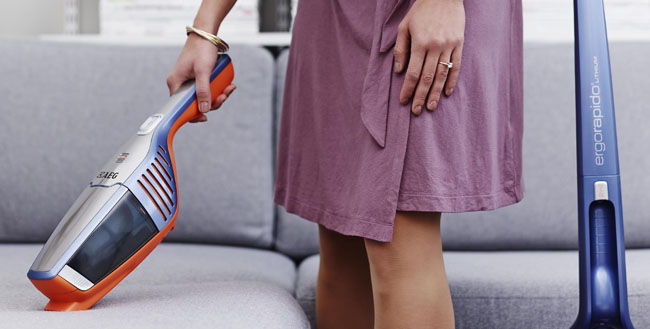 Like the Dyson DC59, it's a two-in-one with a handheld cleaner that detaches at the flick of a button. A soft brush head and crevice tool is stored on the charger and any handheld that comes with a soft brush gets my approval. It's needed too, as this attachment glides over electronics, especially TVs and netbooks to suck out muck without damage.
AEG launched its first cordless vac 10 years ago, since then it has come a long way and at nearly half the price of the Dyson DC59, it's a sound choice for urbanites.
Price £169
Capacity/Weight 0.5 litres, 2.52kg
More info AEG