This article is more than 1 year old
We come bearing caviar: ISS astronauts arrive at station in Space
Floating science lab gets holiday goodies
The latest members of the International Space Station's crew have arrived on board – and they come bearing gifts.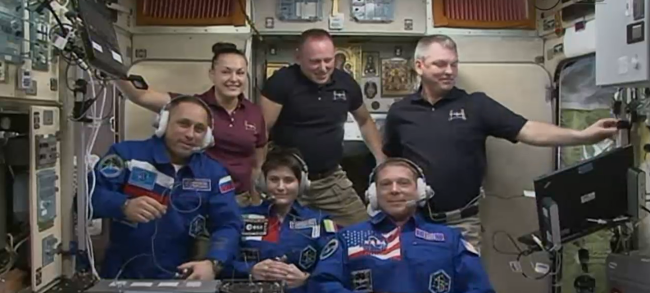 The full Expedition 42 crew aboard the ISS. From left: Roscosmos cosmonauts Anton Shkaplerov and Yelena Serova, ESA astronaut Samantha Cristoforetti, NASA astronauts Butch Wilmore and Terry Virts and Roscosmos cosmonaut Alexander Samokutyaev. Credit: NASA
NASA astronaut Terry Virts, the first Italian female astronaut Samantha Cristoforetti of ESA and Roscosmos cosmonaut Anton Shkaplerov joined their Expedition 42 crewmates when the hatches opened up between their Soyuz TMA-15M craft and the station at around 5.00 GMT this morning.
As a housewarming gift, the three new 'nauts brought along some coffee, fresh fruit and fifteen 30g cans of sturgeon caviar.
Expedition 42 commander Barry "Butch" Wilmore of NASA and Alexander Samoukutyaev and Elena Serova of Roscosmos were on hand to welcome their new shipmates. All six crew will be aboard the station for Christmas, before Wilmore, Samoukutyaev and Serova return home in March next year.
At that point, Virts will become the commander for Expedition 43 until he heads home with Shkaplerov and Cristoforetti in May.
The caviar will be saved for the crew's New Year's celebrations, but they'll undoubtedly be tucking straight into the coffee courtesy of a specially designed coffee machine that can work in space, designed by coffee firm Lavazza and engineering company Argotec.
In between their social time, the crew will also be working on scientific investigations and technological demonstrations, including observing the genetic makeup of roundworms, studying aerosols in the atmosphere and researching immune cell repair in organisms.
The roundworms, along with blue mussels and rodents, will also be part of a study to examine the impacts of space on development, growth and physiological and ageing processes. ®