This article is more than 1 year old
HDS, HP leapfrog NetApp in the land of the MAGIC QUADRANT
Gartner points to critical capabilities for decision
The gnomic Gartnerites have promoted HDS and HP over NetApp in their 2014 general purpose array magic quadrant, with an explanation of the concept given here.
NetApp, with its FAS8000, was second to EMC's VMAX in the year-ago MQ, but Gartner has leapfrogged HDS' VSP G10000 past it in the updated MQ, with HP's StoreServ 10000 close behind.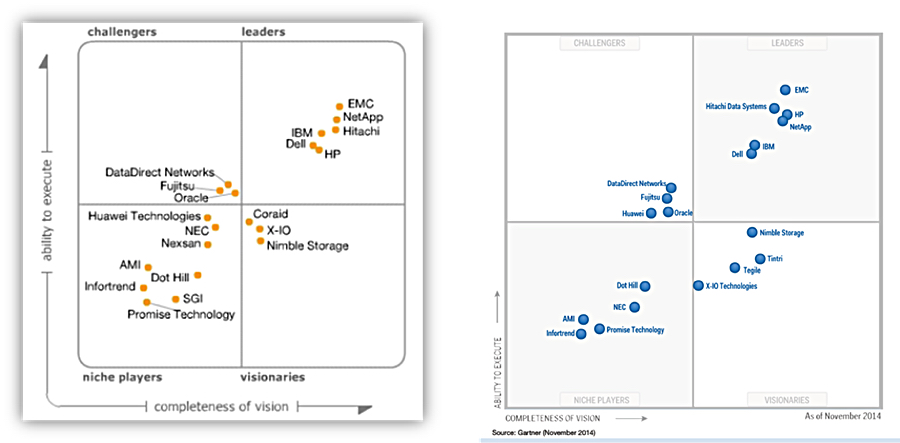 Gartner enterprise storage array magic quadrants for 2013 (left) and 2014 (right). Click image for a larger version.
We understand that HDS's VSP G10000 array topped the high-end enterprise storage array rankings in an accompanying Critical Capabilities report. It shared these honours with HP's XP7 array, an OEM version of the original Hitachi array technology
In the challengers' quadrant Huawei, with its OceanStor 18000, has been promoted from the niche players and joined DataDirect Networks, Fujitsu and Oracle.
The "niche players" was the most crowded box last year but now has only five vendors represented: Infortrend, AMI, Promise, NEC and Dot Hill. Since last year, Nexsan (now part of Imation) has dropped out, as has SGI.
Coraid has also vanished from the scene, dropping out of the visionaries' box and leaving Nimble Storage and X-IO still in residence. X-IO has moved closer to the niche players' box, while Nimble is closer to the leaders' quadrant. Two new entrants here are Tegile and Tintri - hybrid arrays rule, OK!
As some enterprise CIOs pay close attention to MQ vendor representation and positioning, these changes are grist to the mill of storage vendors' marketing machines. HDS and HP will be very happy while NetApp's quotient of joy may be somewhat diminished. ®