Official stats show the British economy is recovering, with a huge demand for tech jobs across the board, and the storm of outsourcing and offshoring seen over the last few years now abating. Even those in Whitehall are hiring, bringing back in-house the planning and execution smarts they previously let go.
For job-seekers, many of whom have been sitting pretty and waiting for the market to pick up, it's time to get back in the game. But given the pent-up demand in the market - new research from IT recruiter Hays finds that 65 per cent of IT professionals anticipate they will move jobs in the next 12 months - standing out from the competition is not something you can leave to chance.
There's an art to making yourself more saleable to potential employers, or even convincing the company you currently work for about that next career opportunity. You know that you're great at your job, but unless you can pro-actively present yourself in the best possible light and push the right buttons for employers, moving on is likely to remain a pipedream.
The good old curriculum vitae is key to getting a foot in the door, and yet simple errors and easily-avoidable mistakes mean many candidates fall at the first hurdle. "People take for granted that they have the skills and have done the course, but unless you can demonstrate that to an employer, you'll fall down," warns Anthony Sherick, managing director of recruitment site Technojobs.
Killer CV
Even before you start applying for jobs, make sure your resume is up to date. The buoyancy of the market means that job offers are being made at interview stage so being ready to pounce will give you the edge over other less-focused candidates.
Most experts agree that anything over two pages will be lost. Focus key points on the first page and keep it clean, clear and punchy. Typos are a definite no-no and a cluttered layout will lead to all sorts of assumptions about the way you work. In a skills-driven industry such as IT, make sure key skills are highlighted very clearly and don't get lost in endless rambling paragraphs.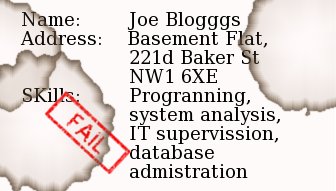 A well written CV is a vital part of the job process
While the temptation, particularly for technical roles, may be to wow prospective bosses with jargon, lists of technical certifications, and geek-speak, it's also important to make it easy for your audience to pull out the information relevant to them. Tailor your CV to the job you're applying for, making sure that the most relevant courses and previous roles are listed.
The importance of "other" interests
Remember, too, that non-work achievements can really help boost career prospects by illustrating sought-after attributes such as creative flair or an ability to thrive in high pressure environments, says Michael Snow, business development manager at Capita IT Resourcing. Sure, a company wants to know that you have the relevant training, qualifications or work experience, but they also want to understand what type of individual they are dealing with.
The chances are, any prospective employer will have done their homework on you. As competition for good people heats up, being scouted for a top role increasingly relies on your "job-seeker searchability".
Similar topics