This article is more than 1 year old
Suffering satellites! Goonhilly's ARTHUR REBORN for SPAAAACE
BT's sat comms site repurposed
California streaming
Also gone is Tristan, built in the 1980s for TV services, and Uther, one of the station's oldest and largest dishes at 27.4 metres diameter, built in 1968. Pad 2, the concrete base with cut-off cables on which Uther used to sit, currently has a desolate feel to it.
But the edge of Pad 2 is home to a new Goonhilly dish, set up for Californian satellite imaging start-up Planet Labs to communicate with its dozens of "doves": small, cheap satellites launched from the International Space Station. Just a couple of metres across and within a white radome to protect it from the weather, the dish represents a welcome addition to Goonhilly's new work. "This is part of the business we hadn't envisaged, tracking low-orbit satellites," says Jones.
Innovative private-sector space work looks set to be a major part of its future. It has bought eight new antennas this year, mainly small ones, but also a yet-to-be assembled 16 metre dish, which may take the place of Tristan or Uther.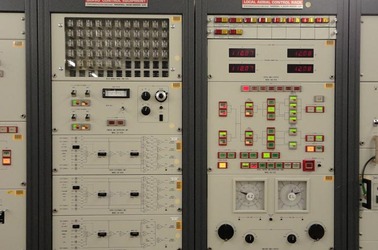 The 1985 Live Aid concert was beamed internationally using Merlin's equipment. Photo: SA Mathieson
Elsewhere, several of Goonhilly's remaining big dishes are being renovated. When I visited, the site's most elegant dish, Guinevere – 29.6 metres in diameter, built in 1972 and a relatively light 356 tonnes – was undergoing a much-needed clean, with a small patch of white surrounded by a palette of grunge, in advance of joining Arthur in the e-Merlin interferometer network.
Nearby, is Goonhilly's largest dish: Goonhilly 6, also known as Merlin, 32 metres in diameter and as a result of being built from aluminium weighing in at just 395 tonnes. Merlin was built in 1985 by the newly-privatised BT and still uses its original equipment, although Jones says this may be replaced. For now, the metal rows of hardware give it the feel of Dr Evil's computer centre.
But its first use was for the opposite of supervillainry. On 13 July 1985, just 22 years and two days after Telstar's first broadcast, Merlin relayed the Live Aid concert from Wembley Stadium to 100 countries around the world. It used to sport a giant Blue Peter badge, awarded by the public-spirited BBC children's programme of the same name. While this was present when your correspondent visited the visitor centre in 2004, it has since vanished.
Although it is not part of the e-Merlin work, Merlin will also be converted for deep space work, and GES has already been in discussions with the UK Met Office and the US National Oceanic and Atmospheric Administration. Like the other big dishes, Merlin may no longer needed for calling out around the world, so it will focus on connecting the earth to the universe.
If you're tempted by the prospect of mastering a Segway – or if you can wangle an official or educational visit – then a trip to Goonhilly even before the new centre opens is worth it.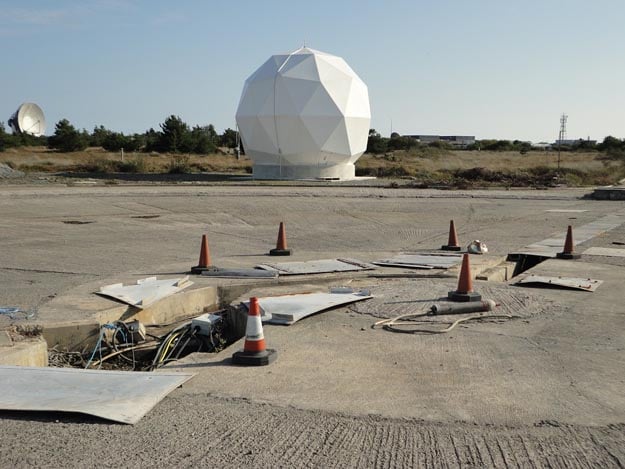 Site of Uther, new Planet Labs radome behind. Photo: SA Mathieson
It should be said, this is a remote spot. Chances are you'll be in the area as part of trip, unless – of course – you already are local. Newquay is about an hour's drive away to the north, Britain's surf capital and under consideration by the UK Space Agency as a space port. Marazion, home to St Michael's Mount is half an hour to the west and Penzance forty minutes, while to the north east by half and an hour is the historic naval town of Falmouth. There's plenty of places to stay in these towns and in the more remote parts between them and Goonhilly.
The Lizard itself features Flambards theme park, the seal sanctuary at Gweek and Roskilly's farm, which serves ice-cream and more substantial meals.
Nestled on an area of outstanding natural beauty, the huge metal structures look every bit like remnants of the first space age. If you make the trip, however, you won't help but be inspired to see them being repurposed to serve a new era of space exploration. ®
GPS
50.03, -5.17
Postcode
TR12 6LQ
Getting there
Car: from most of the UK, drive south-west along the M5 and A30, then head south on the A39 and A394 through Truro and past Falmouth. At Helston, turn south on the A3083 for the Lizard past RAF Culrose, before taking the B3293 east for Coverack. Look out for the big dishes and the BT-branded gatehouse.
Public transport: mainline train to Truro, then First's 36 bus runs from the city's bus station to Goonhilly three times a day Monday to Saturday, taking about 95 minutes. Entry
Goonhilly Earth Station is not currently open to the public, although it plans to reopen its visitor centre in 2015 or 2016 (check website below for updates).
Other resources
Goonhilly Earth Station website
Goonhilly Segway website