This article is more than 1 year old
Mysterious BEAM outside London Googleplex ZAPPED
Proof Google is planning on charging the man in the street*
Vid Workmen are digging up the spot outside Google's London headquarters where a mysterious "beam" once made pedestrians' hair stand on end.
Dotted around two freshly dug holes were small signs which said "beware: fibre optic cables" and the remnants of a police cordon.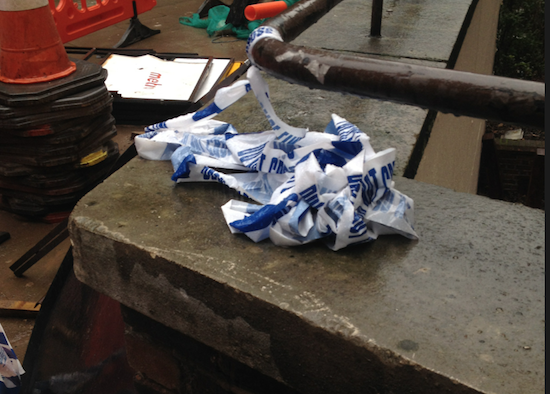 The holes were on the same spot where the odd force was reportedly focused, which sadly meant we could not test what onlookers had described as a "force field". Unconfirmed reports suggested that engineers had also shut off power to the street, which was closed off briefly this morning.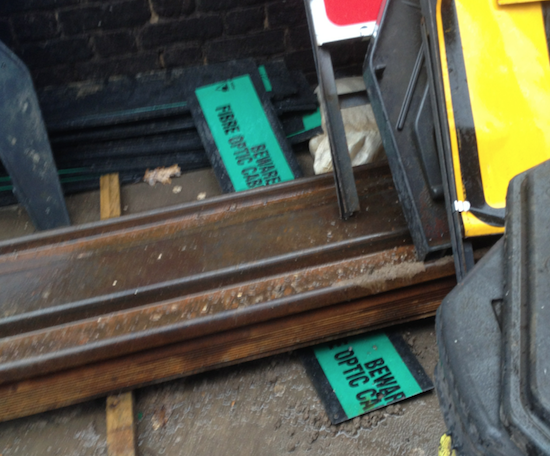 Reports of the strange effect have been circulating for several months, but a new video emerged yesterday showing a man apparently receiving an electric shock as he filmed the effects of the Google, er, "forcefield".
We were unable to replicate the effect and did not fancy stepping inside the cordoned-off area, though we would like to deny this was because of the rather over-egged claims on Reddit that people exposed to the beam suffered nose bleeds and toothache.
Conspiracy theorists have suggested the beam could be caused by supposed undercover Google experiments.
Saner minds suggested that there was an electrical charge of some sort, perhaps generated by underground cables. This theory was pooh-poohed by an electrician who was working on a building site nearby.
"These cables are shielded, so I can't see how they would generate a charge of this kind," he told us.
Some people on Reddit blamed the effect on the air vents from a nearby restaurant, whilst others said it was down to static generated by the metal facade of the building.
A waiter who works in the area told us the effect was strongest when the eatery was open.
"My hair sometimes stands on end when the kitchen is busy," he said.
We also spoke to a Google worker who was smoking a cigarette outside the headquarters.
"There's a lot Google don't tell you about," he said. "I haven't seen everything here yet. Like the slide, for instance. No one's shown me that. My hair hasn't stood up on end either, but maybe that will happen soon." ®
* Subhead credit goes to Rufus McDufus