This article is more than 1 year old
Yes, UK. REST OF EUROPE has better mobe services than you
EE best of a disappointing lot
UK readers, what you've always suspected has been proven true – even the weakest mobile networks abroad perform better than some of our best. This is according to German mobile network survey company P3, which this week published solid numbers on mobile network coverage.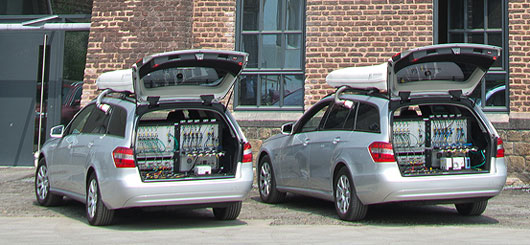 P3's test equipment
And it's not good.
The testing company gave the UK networks scores out of 500 and said: While the best UK operator achieved a score of 366, the top performers in Germany, Austria and Switzerland scored in a range above 440; and even a score above 470 was achieved in the last years. The lowest values in those countries were above 325, which would still be enough for the second place in UK.
So if you've been thinking that Johnny Foreigner has a better mobile phone service than you do, you are probably right.
The company shows that EE has the best service, puts Three in second place, and places O2 marginally ahead of Vodafone, in a disappointing fourth place. This will be bad news for Vodafone, which has been shouting about significant capital investment under "Project Spring".
Vodafone told us:
There have been numerous reports into UK network performance in the last month, each of which shows different results as they are based on different criteria, from locations tested to devices used: for example, research carried out independently by LCC* between August 2014 and November 2014, shows that in 14 major cities where we have rolled out 4G – including London, Manchester, Birmingham, Edinburgh and Glasgow – we provide unbeatable or the best indoor and outdoor 4G coverage.

We continue to call for a common industry approach to these reports to properly measure a consistent signal for voice, data and video in areas where customers need it, including indoors.
Like The Register's Monopoly survey, the P3 testing uses rooted Samsung handsets which give access to full radio information. This has allowed the company to publish full details on audio quality and reliability.
Unlike our testing, which used backpacks to allow in building testing, P3 fits its test equipment into cars and mimics in-building testing by attenuating the antennas – which isn't quite as good as it doesn't allow for multi-path. The P3 audio testing, however, is very much better than any of the other recent independent tests, better than ours, Opensignal, Rootmetrics or that of Ofcom as it uses the Perceptual Objective Listening Quality Analysis wideband algorithm (POLQA). From this P3 derived a MOS (Mean Opinion Score) and could take into account the effect of W-AMR, known as HD voice.