This article is more than 1 year old
Trousers down for six of the best affordable Androids
Stylish Googlephones for not-so-deep pockets
Product round-up Cheap Android smartphones have their place ultimately in a landfill site1 for those on a tight budget or as an extra for convenience abroad or elsewhere. So what if you fall into the middle ground?
Bargain basement devices compromises won't do and neither will coughing up the sort of money required for a Nexus 6, Galaxy S5, Xperia Z3 or HTC One. Can you get something smart, powerful, perhaps even desirable, for between £150 and £200? As it happens, yes, you can.
Asus ZenFone 5

It's taken a while for Asus' ZenFone range to wash up on Blighty's shores but now it's here you can chose from a range of 4-, 5- or 6-inch 3G devices, powered by Intel Atom chips or a 4G 5-incher. While the £99 ZenFone 4 is a bit small and gutless and the £250 ZenFone 6 a bit big, the £200 4G ZenFone 5 hits the sweet spot for the price/size ratio and offers a Qualcomm MSM8926 Snapdragon 400 chipset with 2GB of RAM. This makes it the preferred choice in this lineup, even if the 3G-only Atom-powered ZenFone 5 is around £30 cheaper.
The 4G ZenFone 5 packs a 5-inch IPS 720p Gorilla Glass 3 display which it's pretty hard to fault, 16GB of internal storage and a fairly robust 2,110mAh battery, though it is fixed in place. The rear camera is a 8Mp component boasting Asus's all-singing, all-dancing PixelMaster software backend which boosts it above the rather mundane cameras on most handsets in this price bracket. For the dedicated narcissist, there is a good 2MP webcam.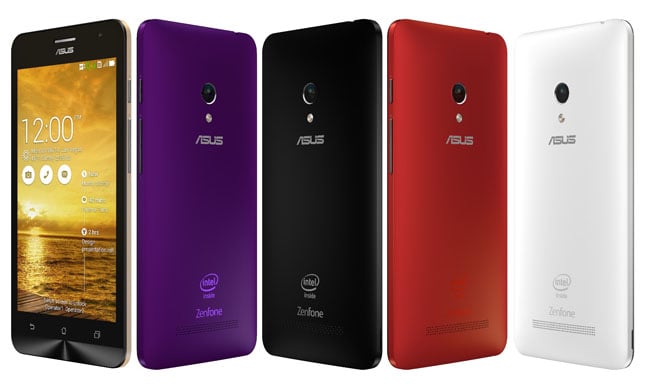 Thanks to the quad-core 1.2GHz chip, Adreno 305 GPU, KitKat underpinnings and lightweight Asus ZenUI overlay, the ZenFone 5 is consistently smooth and pleasurable to use. It exhibits none of the pauses that slightly besmirch some of Asus' Atom-powered Android devices. The Glove Touch feature – which does exactly what you'd expect – works reliably too, even when wearing thick mitts. To cap it all, the Asus Zen Fone 5 is well made, stylish and has a microSD card slot. It's certainly the most convincing mobe from Asus to date.
Price £199
More info Asus
HTC Desire 610

So, you have your heart set on the rather fine HTC One M8 but can't afford it? Well, the Desire 610 is a pretty decent, albeit rather plastic, alternative which can be picked for well under half the price of the M8. The quad-core Snapdragon 400 1.2GHz chip and Adreno 305 GPU give it a good lick of speed and the 4.7-inch TFT screen (qHD rather than 720p) is crisp and colourful – albeit rather too reflective for my liking. It feels a bit, well, soft to the touch too. I'm not sure if it's actually covered in hard plastic or glass.
With 8GB of storage, memory card expansion and fixed 2040mAh battery and you shouldn't run out of space or juice and you get Android 4.4.2 KitKat out of the box. HTC's Sense overlay has finally settled down into something light on its feet, appealing and useful and the same goes for the BlinkFeed social network aggregator, which I'm starting to actually like.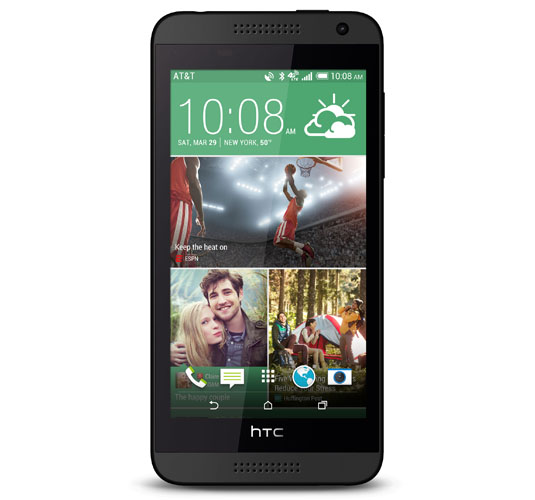 The BoomSound stereo speakers mounted above and below the screen aren't a match for those fitted to the HTC One M8, but they still blow the other handsets here into the weeds. Rather than the M8's UltraPixel camera, the 610 has a more conventional 8Mp snapper – which is a probably a good thing. The only catches are the use of a nano rather than micro SIM and the thickness, which at 9.7mm makes it a bit of a chunky monkey.