This article is more than 1 year old
Tough Banana Pi: a Raspberry Pi for colour-blind diehards
Wi-Fi? Check. SATA 2 port? Check. Screen - Ow, my eyes!
Review The Raspberry PI Model B+ is the hot new SBC (Single Board Computer) of the moment. The cheap price, low power usage, good support and ease of use make it a very good buy for DIY nerd projects and media front ends.
One common complaint is lack of RAM and CPU. Now, however, there are choices for Power users – the Banana PI from Le Maker, backed by the PRC's Shenzhen University.
In terms of raw specifications, the Banana Pi blows the Raspberry Pi out of the water. This hot banana is one cool computer. The Banana Pi specs include:
Dual 1GHz ARM Cortex CPU
1GB SDRAM
10/100/1000 Ethernet (Realtek)
Wi-Fi B/G/N
SATA 2 Port
IR receiver
It has all the usual SD card slot and 2 USB slots, audio and such. Banana Pi also has more RAM and CPU (pretty much double the specs of the Raspberry Pi Model B+), but there are some other tasty treats that potentially make it really appealing to power users.
The Banana Pi has inbuilt Wi-Fi - although only in the Pro version - and a SATA 2 port so you can connect a hard disk to it (power for a hard drive is provided on the board), massively expanding the possibilities. No more being limited to USB attached mass storage. Gigabit Ethernet is also a very welcome edition.
These additional ports are exactly what the Raspberry Pi has been missing, opening up a whole new range of applications and uses. Me? I am going to use it as a time machine backup alternative. Whilst discussing the hardware, note that unfortunately none of the Raspberry Pi boards, such as the camera board, will work with the Banana Pi. The manufacturers have stated they are bringing one out. As to when, no one knows.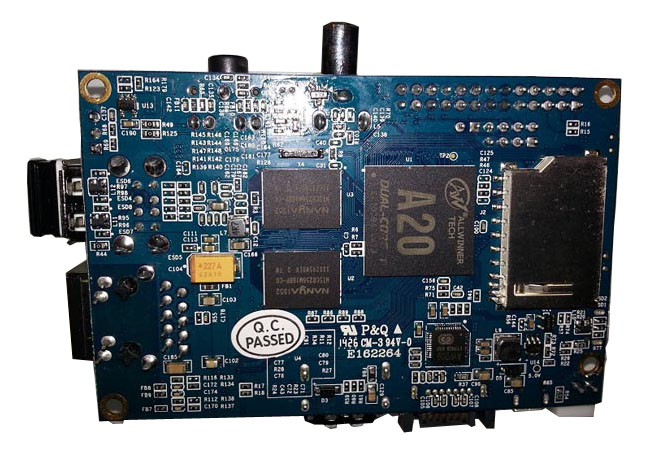 Banana Pi packs what Raspberry Pi is missing
Just like the original Pi, it has a whole range of distributions to choose from, including a build of Android, without the Google licensed parts.
The setup process is not the easiest. Although to a seasoned IT pro it was quite easy, it is also very clear where corners have been cut. A good example being that even the official software distribution for the platform comes via Google Drive, Drop box and other such file hosting sites, and on what appears to be free accounts. These don't instil confidence. I felt like I was downloading some dodgy bit of software, not a legitimate operating system.