Breaking Fad What was your first streaming device? Over recent months, there has been a glut of them, but the first to find a space on my network was a Roku SoundBridge (or, more accurately, Pinnacle SoundBridge HomeMusic, as it was known in the UK).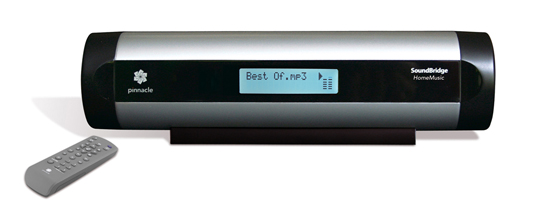 Soundbridge Streaming devices have come a long way in a short time
It's pretty basic by modern standards, with a decidedly clunky interface and a two line LCD display, but it can be controlled by smartphone apps, and as well as playing music stored on my Synology, it can also pick up internet radio streams.
Next up was a rather more chunky Neodigits Helios X5000, which was built like a tank, with "audiophile grade" components, the ability to play a wide range of HD video formats and also FLAC audio. It can't be used for audio without a TV, didn't support H.264 and turned out to have a decidedly dodgy approach to electrical insulation. So, while the SoundBridge soldiers on in the bedroom, the X5000 hasn't even been plugged in for years and just takes up space.
That's something that certainly can't be said of the latest wave of streaming gadgets. There seems to have been something of a deluge of these coming my way lately, and since they're also the sort of thing that may find their way into a gadget-lover's Xmas shopping list, I thought I'd take a look at some of the things worth bearing in mind when you're shopping – though given the space, this won't be a full scale review of any of them.
If music be the food of love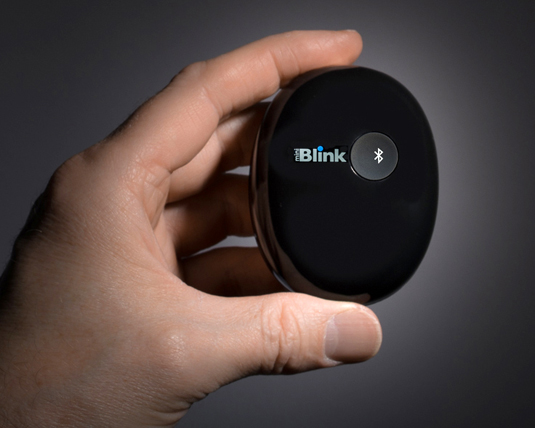 Arcam's Bluetooth receiver uses the aptX codec and a high quality DAC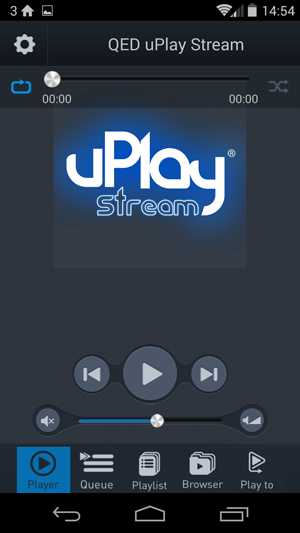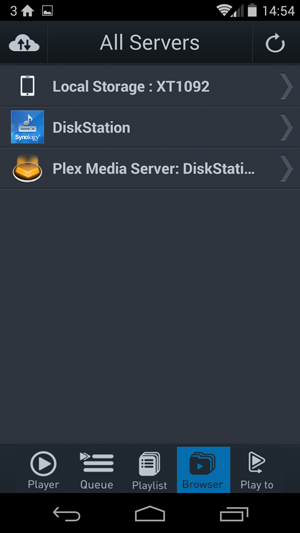 The QED uPlay streamer supports FLAC and AppleLossless, though the app is a little clunky
For some of us, music is all we need. My AV system has an iPod dock, but the iPod died in a fluid-related incident, and frankly it's easiest to have all the music available via Google's Play cloud service. So, for now, the place of the iPod dock has been taken by Arcam's miniBlink Bluetooth DAC. It's £90, which may be a bit on the steep side, but if you want something compact, this pebble-shaped streamer has pretty good quality - though I did experience a few dropouts with one phone - thanks to the aptX codec.
Setup is a simply matter of plugging in and pressing a button to pair. And it's simple enough that friends can easily pair their phones if they can't stand the music on mine. Easier than having a separate Bluetooth speaker system for parties.
Also in the audio-only stakes is the uPlay Stream from QED, which comes in at around £150 - but for the money, you also get support for FLAC and Apple Lossless formats.
It's about twice the size of the miniBlink, and you'll need to have your music on a server that it can access. It works well with my DiskStation, but I do find the app a little fiddly to use. Thankfully, you can use other DLNA control point apps, such as Skifta or BubbleUpNP, as well.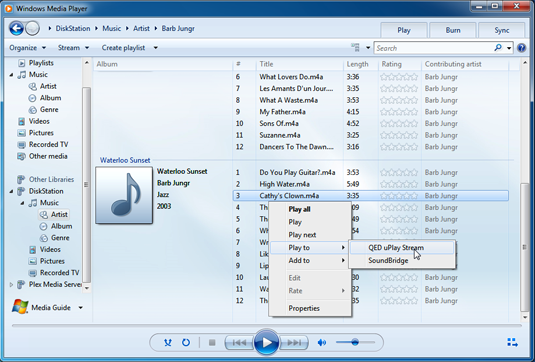 Like the SoundBridge, the QED player appears as a destination in Windows
A nice touch - though not one I've had a chance to play with, as I only have the one - is the ability for one app to send audio to several uPlays at the same time, for multi-room sound.
Chromecast away...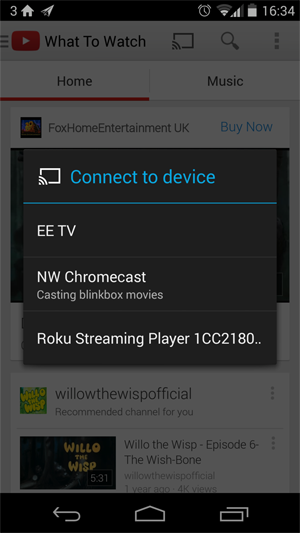 Just because a device pops up when you're playing with YouTube, don't assume you can send other content to it from your phone.
Very often these days we want to stream video rather than audio, and that's perhaps where there's the biggest contrast between the capabilities of modern devices and those of the old Helios.
Diminutive boxes such as the Roku and Apple TV not only pack in a lot more power than older kit, but they're much more upgradeable. Not just reliant on new firmware from time to time, the ability to add extra apps means that these can give you an excess - even a surfeit - of content to choose from.
Much of the latest kit makes even Arcam's miniBlink look portly. Google's ChromeCast, Roku's Streaming Stick and Amazon's Fire Stick all just plug into a spare HDMI port, cost less than £50, and provide access to a huge amount of streaming media - though these days, the emphasis is far more on remote media via the internet than on content from a home server. UK readers will also have to wait a little longer for the Fire stick, though they can pick up the Fire TV box.
To a degree, which of these is right for you may depend on which ecosystem you've bought into. If, for example, you're a big Tesco shopper and a fan of Blinkbox, then you may be best off with a Chromecast, as there's no Roku app for that service. And Amazon fans will, very likely, prefer that firms box or stick - which does at least also have Netflix as an option.