This article is more than 1 year old
Lord Lucan, Murakami's Strange Library ... and a hitchhiker's guide to the Computing Universe
Rum biz, this murder and disappearance mystery
Page File El Reg bookworm Mark Diston trawls through the freshest releases in publishing. This week we have a trippy new Murakami about a murderous librarian, a murder mystery to suit Downton Abbey fans and lastly, a pop-sci romp through computing history that soon takes a turn for the sci-fi...
The Strange Library
Haruki Murakami has already published a novel: Colorless Tsukuru Tazaki and His Years of Pilgrimage in English this year. The Strange Library is what you might call a graphic short story.
Our protagonist has an overwhelming curiosity about the subject of taxation in the Ottoman empire and visits the city library to research the subject. He meets a strange librarian: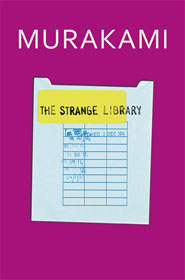 "Tiny black spots dotted his face like a swarm of flies" and "Skin dangled beneath his chin like a punctured balloon"...
The librarian finds our hero three books about taxation in the Ottoman empire, but they are reference works only to be read in the library reading room. A character from Murakami's The Wild Sheep Chase reprises his role in The Strange Library, before the librarian imprisons our hero in a dark room and delivers an ultimatum:
"You will memorize these 3 volumes from cover to cover...One month from now I will personally examine you. If I conclude that you have mastered the contents completely, then I will set you free."
And what happens if our hero fails?
"The top of your head'll be sawn off and all your brains'll get slurped right up."
"Don't you think that's awfully cruel?"
"...this kind of thing goes on in libraries everywhere, you know. More or less, that is."
We are evidently in the land of Jorge Luis Borges as remixed by the brothers Grimm. The Strange Library has all the attributes of a fairy story, including a mute love interest:
"She was so pretty that looking at her made my eyes hurt."
The nameless protagonist begins reading The Diary Of An Ottoman Tax Collector and finds himself becoming Ibn Armut Hasir, the writer of the book.
Even though the strange librarian is impressed by his prisoner's progress, an escape is planned and our hero runs the gauntlet of his evil captor and his memorable catchphrase:
"I'm going to slice you up nice and fine and feed you to the centipedes." The adventure draws to its conclusion and:
"After that I never visited the city library again."
The Strange Library reads like an out-take from a Murakami work of the 1980s, possibly Hard-Boiled Wonderland And The End Of The World, which involves a tale involving strange libraries, amongst other things.
It is not what you'd call one of his major works, in fact it is not even one of his better short stories. As a read it is a pleasantly spent hour with pretty pictures. Let us be frank, The Strange Library's format and release date would indicate that this book has been produced as a gift idea for Xmas...and though hardcore Murakami fans might possibly find it rather underwhelming in the ideas and prose department...it is Murakami nonetheless and has all his trademark smartness, playfulness and surreality.
The whole product has been beautifully designed with faux vintage library stamps and cards integrated into the design and though there are slim pickings from the literary angle, The Strange Library would make a great gift for any Murakami fan in your life.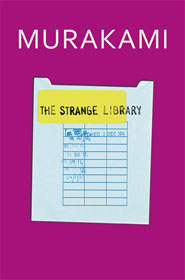 Author Haruki Murakami
Title The Strange Library
Publisher Harvill & Secker
Price £12.99 (Hardback)

More info Publication website