Lord Lucan, Murakami's Strange Library ... and a hitchhiker's guide to the Computing Universe
Rum biz, this murder and disappearance mystery
---
A Different Class Of Murder, The Story Of Lord Lucan
Laura Thompson is a writer who feeds the twin English obsessions of class and murder, having previously penned biographies of Agatha Christie and Nancy Mitford.
A Different Class Of Murder is Thompson's retelling of the 1974 murder of Sandra Rivett – and the disappearance of Lord Lucan, which took place hours after the event. The book is written in the rather brain-dead, fawning, obsequious manner familiar to readers of the Daily Express and Mail On Sunday colour supplement, where Amanda Platell meets Tara Palmer-Tompkinson again and again and again: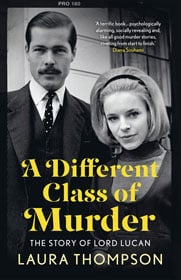 "Those murders commited in London's scene frontages... subsumed into Cubitt's glorious dream of stucco..."
Laura Thompson is evidently in her element, outlining her subject as: "The stuff of Agatha Christie and the Cluedo board". It appears "Lucky" Lucan even stuck to the rules by using a lead pipe...
The Lord Lucan myth has been tabloid fodder since the beginning, so I suppose it makes sense that the story be told in the house style. There is an awful lot of irrelevant background material describing the deeds of the previous dozen peers of the realm who have been accused of murder and the excesses of previous Earls of Lucan in distant centuries.
The seventh earl comes over as a bit of a throwback, a regency blade born a century and a half too late. His wife, Veronica, meanwhile, "was an intelligent woman sentenced to the life of an upper class bimbo".
Lucan, without Bonaparte to fight or the empire to run, is reduced to drinking and gambling. Veronica is depressed and popping pills, they separate, she gets the house and the kids, he goes off the rails and so ensues one of the great murder mysteries. It is assumed that Sandra Rivett was mistakenly murdered in the dark by a perpetrator who believed she was Veronica Lucan.
Sandra Rivett is the mystery factor in this book. We learn she bears a remarkable likeness to Lady Lucan... but without title or property, she is reduced to a mere prop.
Lucan's friends and family come over as a bunch of upper class buffoons: "What a pity, good nannies are so hard to find!"
His favourite club, The Clermont, was founded "so gentlemen could ruin themselves as elegantly and suicidally as they did three centuries ago".
Despite all the superfluous tosh which appears in this book, the actual story at its centre is fascinating and compelling. Laura Thompson, when she cuts the crap, can spin an engrossing tale... but one gets a little tired long before the third comparison of Lady Lucan with Diana, Princess Of Wales.
The Sunday supplement and Burke's peerage digressions add plenty of bulk and no relevance to this story and however hard Laura Thompson tries to spice up the tale, you get the impression that beneath the aristocratic veneer, the main protagonists were just a pair of sad fuck-ups...
This is not an atrocious book like Sophie Hannah's Monogram Murders, though its 400+ pages are bolstered by too many repetitive speculations and society column hearsay. If, like me, you know someone who is into crime fiction and loves Downton Abbey, this might just float their boat.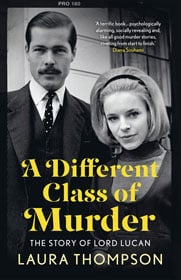 Author Laura Thompson
Title A Different Class Of Murder: The Story Of Lord Lucan
Publisher Head Of Zeus
Price £20 (Hardback)
£8.99 (Ebook)
More info Publication website