This article is more than 1 year old
Post-pub nosh neckfiller: Masala omelette
'I fell into a burning ring of fire ...'
The Brit post-pub gourmets among you will doubtless have indulged in the national pastime of staggering from the boozer to the nearest curry house, so it's no surprise that reader Martin Gregorie got in touch last week to suggest we venture into the hot and spicy by cooking up something with a bit of a kick.
A splendid idea, and Martin attached a few recipes for our consideration, one of which proved attractive for its simplicity and effectiveness in lessening the terrible effects of a righteous liver-bashing.
Introducing, then, the masala omelette - ideal morning-after fare which fuses traditional Indian bits and pieces in a delightful head-clearing mélange.
Our recipe is a summary of several variations to be found on the interwebs, and you can omit or add ingredients according to taste and what you happen to have to hand.
Garam masala ("hot spices") is pretty obligatory, though. We were tempted to make our own as an authentic touch, in lieu of the ready-made supermarket offering, but decided the time would be better spent drinking beer, the better to test the restorative effects of the omelette.
So, assemble the following ...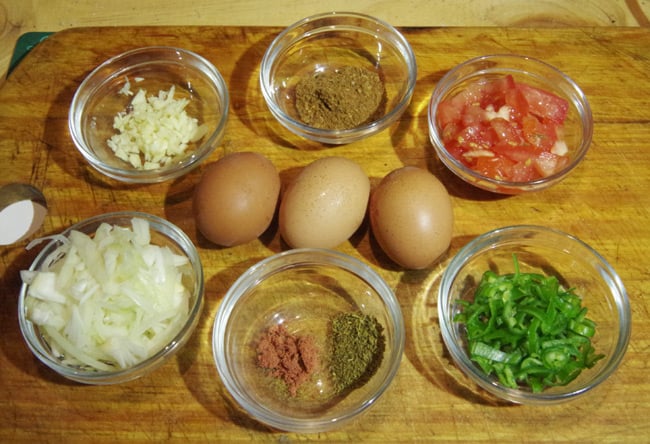 ... comprising, clockwise from bottom centre ...
One teaspoon of ground cumin seeds
Half a teaspoon of ground chilli
One small onion, chopped
One clove of garlic, chopped
One teaspoon of garam masala
One small tomato, chopped
Two small chilli peppers, chopped
Three eggs
You'll also require a small knob of butter for frying, plus salt and pepper to taste. Let's get to it ...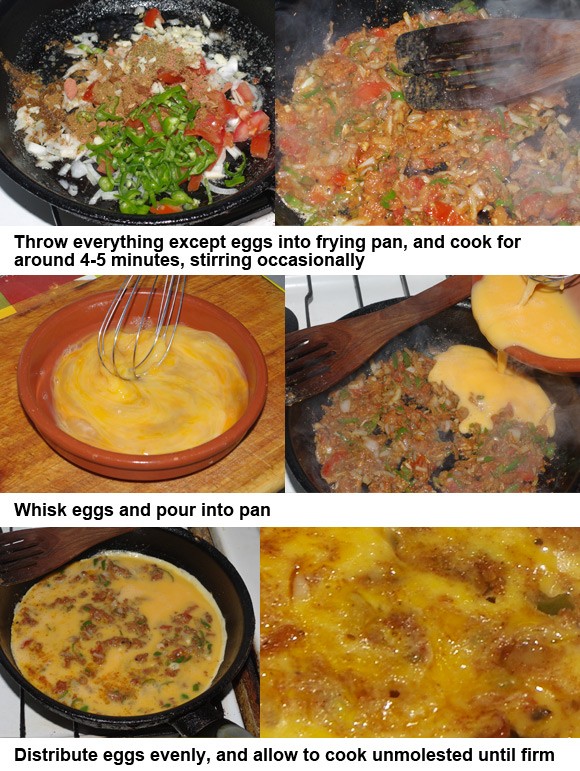 Once you tackled those hardly onerous steps, just garnish with some fresh coriander by way of token vitamin content and brace your laughing gear for impact: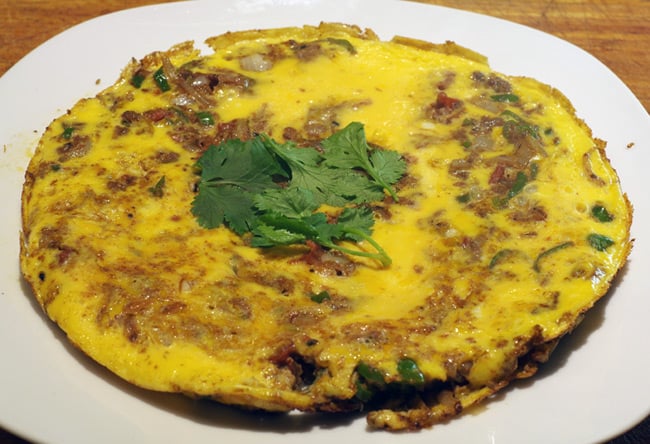 Obviously, you can make this burning ring of fire as spicy as you like, depending on how much asbestos your digestive tract contains. Our effort was agreeably and moderately hot, ideal for clearing a light fug after a night on the sauce.
For more serious cases of alcohol-induced morning sickness, it's tempting to deploy a full-on hangover cure including something a little more incendiary.
Our Low Orbit Helium Assisted Navigator (LOHAN) rocket wrangler Paul "Shax" Shackleton has a penchant for napalm-grade peppers, and has been experimenting with the terrifying Carolina Reaper.
Clocking up a whopping 1,569,300 on the Scoville scale, it roasts even the Brit Infinity Chilli (1,176,182) and the legendary bhut jolokia (previous Guinness World Record Holder at 1,041,427).
We're handing the spatula over to Shax for that particular culinary experiment, and expect a report from a fireproof toilet cubicle in due course.
In the meantime, if you've got a particular nosh neckfiller you'd like us to feature, let us know. ®
Bootnote
We normally test our recipes on the locals here in sunny Spain, but having experience of how they react to curry, decided that in the absence of a suitable incentive, like a gun to the head, we weren't going to be able to persuade them to partake.