What's that rumbling sound? It's HP preparing to deliver truckload of storage products
Barcelona launch to StoreServ you right
Attendees at HP's Discover event in Barcelona this week are getting a bumper crop of StoreServ hardware and software announcements, expanding the HW range and adding object access and better data protection.
They'll hear about:
Enhanced 7200, 7400 and 7450 StoreServ arrays
New 7440c array
Expanded data import sources
Converged block, file and object access with no separate hardware
New snapshot-based data protection scheme
StoreOnce Backup 6500 gets boosted
HP has essentially a four-product StoreServ range; 7200, 7400, all-flash 7450, and 10000. The 7200, 7400 and 7450 (all-flash) products have been upgraded and a 7440c model added. All the new models have a "c" suffix.
Here is a table using partial information from HP about the new "c" arrays. It shows the positioning of the StoreServ 7000s at a basic level as we understand it: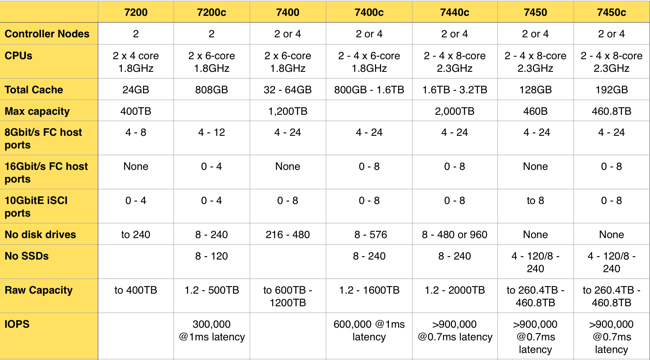 HP StoreServe 7000 series array details
The 7400c might be positioned to compete with EMC's VNX 5600. We can think of it as a 7450 with the all-flash requirement removed.
StoreServ 7440c
This is called a 'converged flash array' and has a rather large 3.6PB usable capacity (understood to be 2PB raw), 16Gbit/s Fibre Channel support, and a claimed more than 900,000 IOPS, like the all-flash 7450. Unlike that one, it can have both SSDs and disk drives with, and HP says is an effective cost of $1.70/usable GB.
A field integrated base unit consists of "3PAR StoreServ 7440c 4-node 4U field integrated base with two 2U enclosures, four controller nodes, 192GB cache, eight 8Gbit/sec FC ports, four adapter slots, and 48 SFF drive bays."
The StoreServ 7200c, 7400c and all-flash 7450c all have have more processing cores and larger memory caches than the 7200, 7400 and 7450. They also have support for block, file and object-access, as does the 7440c with File Persona software.