What's that rumbling sound? It's HP preparing to deliver truckload of storage products
Barcelona launch to StoreServ you right
StoreServ 7450c
This is a cache-boosted 7450, with 192GB of cache instead of 128GB. Here's HP's list of what else is new:
2-port 16Gbit/s Fibre Channel Adapter
Thin Deduplication Software provides efficient, silicon-based inline deduplication that increases capacity efficiency, protects flash performance, and extends flash media life
Thin Clones Software increases capacity efficiency for server virtualisation environments by instantly creating virtual machine clones without increasing storage capacity consumption
Lower cost 480GB cMLC SSD available
920GB FIPS Encrypted MLC SSD available
Accelerated writes with 3PAR Express Writes
FIPS 140-2 compliant encryption with enterprise key management for high-availability data protection
Convergence and File Persona software
StoreServ arrays have always had block-level access and users can have file access as well through 3PAR File Services using a StoreServ File Controller. This is a separate hardware which comes in a clustered gateway configuration and runs Windows Storage Server 2012.
File Persona software provides NFS and CIFS access plus object access as well on the new StoreServ systems, the ones with a "c" suffix. It looks like the "c" stands for "convergence".
Instead of the file services running on a separate controller they now run directly on the StoreServ array and its storage operating system.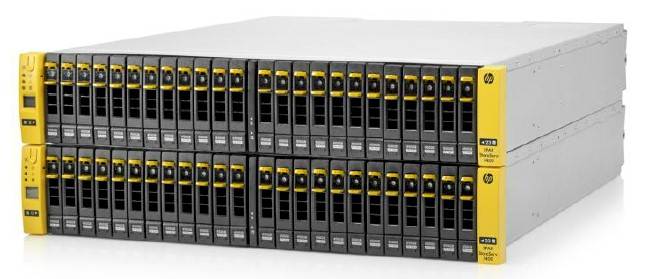 3PAR StoreServ Array: File Persona software provides NFS and CIFS access plus object access as well on the new StoreServ systems
HP says it features "file specific features such as access controls, quotas, file snapshots with end user based recovery, and anti-virus scanning".
HP says File Persona is the first example of a move of "storage-affinity related workloads such as data access, protection and analytics directly into the storage operating system and controller".
Block, file, and object-access management is performed from a new StoreServ Management Console. It has a search-enabled dashboard and OneView is used for converged infrastructure (server, networking and storage) management.
StoreServ object storage
HP's StoreAll product provides object storage via the 8800 array, which uses acquired Ibrix technology. HP's server group has a couple of deals to resell Cleversafe and Scality object storage but David Scott's storage part of HP's Enterprise Systems business stresses the StoreAll 8800 line is strategic and has end-to-end HP support.
Moving on there is an 8200 Gateway Storage product which uses StoreServ 3PAR arrays for file and object storage instead of the 8000 array.
The StoreAll 8800 supports "NFS, CIFS and SMB, NDMP, HTTP and HTTPS, WebDAV, FTP and FTPS, StoreAll REST API File Compatibility Mode and Object Mode." Native OpenStack Swift and Keystone are also supported.