Wikipedia won't stop BEGGING for cash - despite sitting on $60m
Are your ads Legal, Decent, Honest and Truthful, Jimbo?
+Comment The latest accounts for the charity behind Wikipedia show it has assets of $60m, including $27m in ready cash: up more than $12m from 2013.
That's far more than the Wikimedia Foundation (WMF) needs to run a website. And the timing is embarrassing: Wikipedia is currently begging for more cash to (in its own words) "keep Wikipedia online and ad-free" and "keep us online without advertising for one more year".
These aggressive banner ads suggest disaster may be imminent if people don't donate - and imply Wikipedia may be forced to run commercial advertising to survive. (Ironically, an ad-supported Wikipedia was Wales' original model over a decade ago).
The WMF's cash pile now includes $23m in investments (up $5.7m) and a further $4m in equipment assets. With total liabilities of only $7m, the charity appears to be in supreme health. Internet hosting for the 7th largest website in the world cost a mere $2.52m in 2014. And the "content" keeps the costs low too: the people who do the work at Wikipedia writing and editing the material don't get paid a penny, of course.
The Foundation's main outlay of $19m goes on salaries for the staff. This itself is controversial: the engineering department employs over 100 and soaks up most of this budget, but the quality of the WMF developers' produce has been widely criticised. Staff are not hired on the basis of ability, critics argue. (We summarised the class conflict between the bourgeoise and the unpaid workers here)
Outbound WMF chief Sue Gardner candidly admitted that the charity had frittered away its money from the donations drives.
In a tacit acknowledgement of these concerns, WMF recently recruited a former software executive, Lila Treitkov, as its executive director.
But the begging doesn't stop. Regular Wikipedians have complained the manipulative and misleading – and the appeals are so intrusive some even prefer advertising: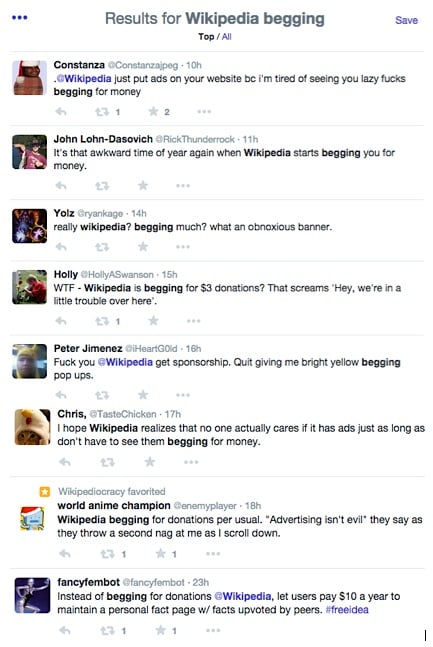 Even WMF's own staff are finding it a bit much.
"The urgency and alarm of the copy is not commensurate with my (admittedly limited) understanding of our financial situation," observes Ori Livneh.
Comment
Given the disparity between operational costs and its cash pile, WMF could afford to give the annual appeal a sabbatical. And it could usefully start to think about a model that rewards the people who actually produce Wikipedia.
You can see the financials here. For more on the growth of the Wikipedia cash pile, see our 2012 story. ®