This article is more than 1 year old
Bought an iPhone 6 Plus? Odds are you've binned the iPad
Fondlers keen on smaller things... except in the bedroom. True story
Apple fans are ditching their iPads after buying a new phab-ulous big screened iPhone 6 Plus, a survey has revealed.
The mobile reader app Pocket has unveiled research that suggests people who buy mobile phones with large screens no longer spend as much time using their tablets.
In a statement which might tickle British readers, Pocket wrote: "We live in a day and age where phones have become so big they require a thumb extender and fanny pack to use them.
"If this is to be the new normal, we found ourselves wondering how screen size might affect when and where we view the content we're interested in?"
The results show that the bigger the iPhone, the more likely users were to ditch their old iPad.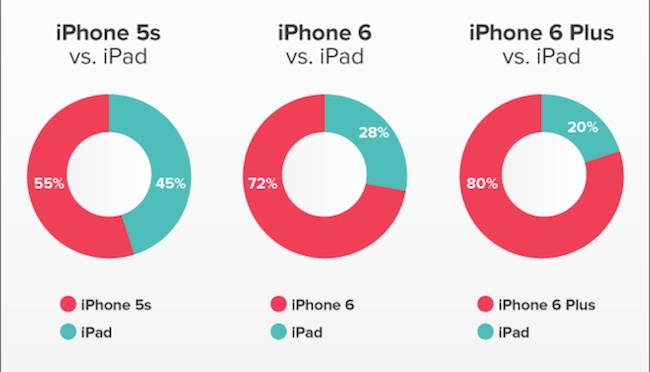 Owners of the iPhone 5S spend 55 per cent of their fondling time using the mobe and 45 per cent using the iPad. Owners of the iPhone 6 Plus spent 80 per cent of the time using their new mega-mobile, compared to just 20 percent in front of the fondleslab.
"The bigger your phone is, the less you're going to use your iPad," Pocket added.
However, its survey revealed that people look for something a bit bigger in the bedroom.
"There remains one place where tablets still hold reign: your nightstand. Regardless of which iPhone they have, users still reach for their iPads around 9pm for some late-night, bedtime reading." ®