Comment The Spectrum fanbois at Retro Computers have enlisted the help of Sir Clive to launch a new crowd-funded Spectrum clone. The Sinclair Spectrum Vega is a console that plays games from the '80s – complete with piezo speaker-generated sound and attribute clash.
The Vega is being marketed by Retro Computers Ltd, a Luton-based startup in which Sir Clive's company Sinclair Research Ltd is a shareholder.
The press release says:
The Sinclair Spectrum Vega is as simple to use as any of the popular games consoles, but far less expensive. It plugs into a TV so the user does not need a computer monitor, and it comes complete with around 1,000 games built in. The user will also be able to download additional games from the thousands that are available free of charge on the web, so there is no need for users to pay any more than the cost of the basic product, which will be well below £100 from the company's website.
Sinclair sold his name to Amstrad, which then sold it to Sky, which left it in a box of old SCART cables and other things which it hung onto in case they proved useful one day. Retro has licensed the name and the ROM code from Sky In-Home Service Ltd to develop the Vega, which "uses a low cost micro-controller and a clever piece of software that enable the Vega to run all of the games, 14,000 or more of them, that were developed during the years when some 5 million of the original Sinclair Spectrum were being sold."
The company claims: "Development of the product is complete, and a fully functioning prototype is ready to go into production."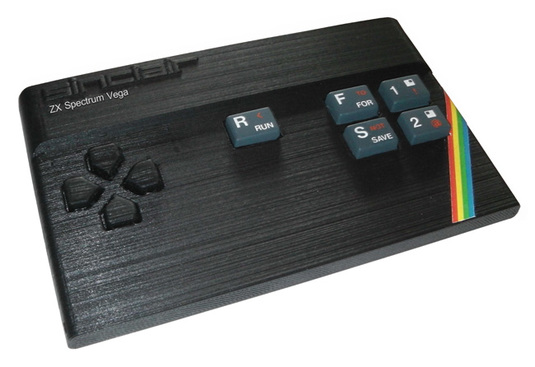 Where are all the keys?
The Vega seems to have lost most of its keys in the process. Which is going to make playing The Hobbit pretty interesting – even if you don't want to sing about gold or eat a broken lunch.
The new Spectrum is being Crowdfunded on Indegogo, and one of the limited edition Vegas whill set you back £100 and you must allow 28 days for delivery will be available in April... presumably not the 1st. The run is limited to 1,000 units but if it does well – and it seems to be going a storm on Indegogo – Paul Andrews, managing director of Retro, plans a retail product.
Ideally it will be a little more finished than the 3D printed model in the pictures although that does echo the ethos of the original rather wondefully.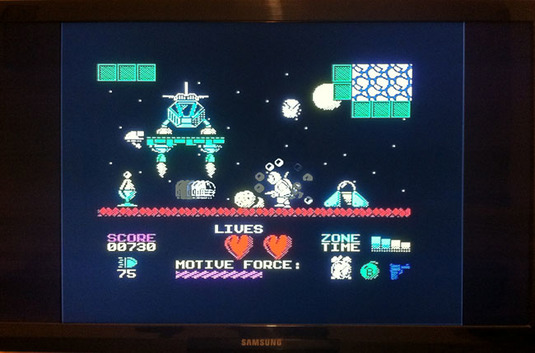 OK, you get 1,000 games – but they look like this...
You'll need to dig out a Retro TV too as, just like the original pregnant calculator, the Vega uses RCA composite video to plug into a goggle box. However, the Reg was told power will come through an HDMI lead.
Putting 1,000 games in ROM presents the slight problem that Retro doesn't actually own the rights to them and so has issued an open letter to rights-holders to get in touch and will be approaching them directly. The company has asked that any Reg readers who've a Spectrum hit in their portfolio please let them know that they will happily allow Retro licence to use them as 10 per cent of the sales of each Vega will go to Great Ormond Street hospital.
Steve Godwin, author of the Spectrum hit Slippery Sid, told The Reg: "Hopefully, innovative products such as this will reverse the ongoing decline in sales of Spectrum games and allow me to re-live the carefree life of a teenage '80s games developer."
As for the kit itself, one reporter's rubbish could be a Reg reader's treasure... who are we to judge? Take our poll and let us know what you think.
®