EE's not-spot-busting small cell trial delights Cumbrian villagers
What's the opposite of a NIMBY?
---
If EE was being its normal hype-filled self, it would call its latest mobile trial in Cumbria 5G. Its restraint is admirable – and the technology even more so.
Putting up cell sites is one way of solving rural mobile not-spots, but getting data from those sites back to the network is an increasingly thorny problem. Building meshes of small cells is a solution to a lot of problems, not least how to cover areas where there is limited backhaul.
EE's Cumbria trial is using a system from New Hampshire-based Parallel Wireless which will connect more than 1,500 rural communities by the end of 2017. The rural micro network tech will give 3G and 4G to rural areas. It doesn't rely on any wired broadband, and can connect communities of around 100 homes with just three or four base stations.
EE says it will achieve this through new micro network technology that wirelessly connects small mobile antennas to a suitable macro site without cabling. This simplifies the process and improves the economics of connecting hard-to-reach areas.
The first micro network installation is in the 129-home strong village of Sebergham, in Cumbria, between the Lake District and Carlisle.
Mansoor Hanif, director of radio access networks and programs at EE, said: "We are determined to serve areas of the UK that have been considered unreachable for both mobile and fixed broadband coverage. The innovative capabilities remove significant obstacles to rural coverage and uniquely enable us to connect areas for the first time with both reliable voice services and our 4G wireless broadband."
EE is using Parallel Wireless' LTE Access Controller (LAC) and Converged Wireless System (CWS). The telco claims this makes deploying and maintaining LTE networks as easy and as cost-effective as Wi-Fi networks.
Simon Mellor, GM, EMEA, Parallel Wireless, Inc, said: "Parallel Wireless' LAC and CWS work together to reimagine LTE RAN architectures that make possible the deployment of a fully-functioning LTE and 3G network in hours."
Busting this kit's buzzword bingo outbreak
Digging into what these do is quite the exercise in buzzword bingo. Strategically positioned houses in the village get a Converged Wireless System (CWS), a box the size of two or three shoe boxes on the outside wall which provides coverage over an area of five or six square kilometres and a link back to the central controller through the antennas.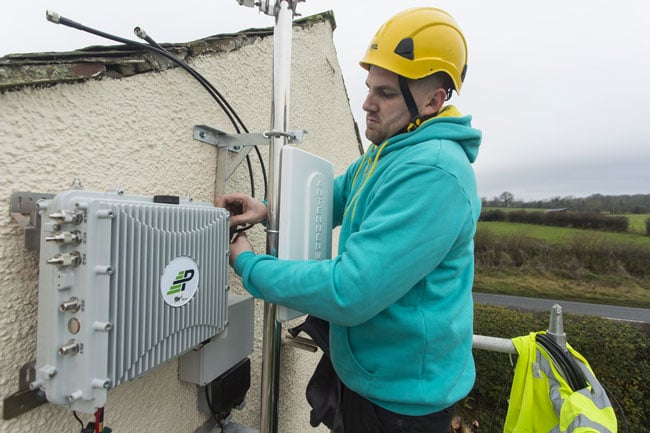 The cells only need power; they provide their own back haul
It can either talk directly to the controller or hop through other CWSes. The box is self-configured and self-managed via the LTE Access Controller so once it is in place the amount of ladder-climbing the EE installers have to do is minimised.
Radio, particularly at high frequencies, doesn't like heavy rain, snow and fog, so the network is self-organising (SON). SON is a particularly favoured infrastructure acronym, the links being changed dynamically and ramping power up and down. SON also means new cells can be added without the need to manually reconfigure the network.
Mansoor Hanif explained to El Reg that EE is experimenting with the number of hops. There doesn't seem to be any effect on the latency to users with four or five hops, and, depending on the geography it might take that number of hops for the mesh to get to a cell on the top of a ridge which would then communicate with a macro cell the other side.
The Reg's experience of measuring latency is that what goes on at the fixed, IP side, of the network has a much greater effect on performance than what happens at the radio side. The current site only has three locations and, depending on the lie of the land it's unlikely that the technology would be used for much more than five or six sites.