Cisco and IBM will later today announce "VersaStack", an integrated infrastructure reference design that blends Cisco's UCS servers and switches, plus IBM's Storwize 7000 storage arrays.
The new rig looks an awful lot like other integrated stacks Cisco's helped to build, such as NetApp's FlexPods. The thinking behind VersaStack will also sound familiar: in a pre-launch briefing beheld by The Reg representatives of Cisco and IBM explained that the pre-prepared designs are ready to rumble running ESXi 5.5, are modular and can therefore scale. Also non-revelatory are the presence of Cisco's UCS Director as the control freak, an intention to let end-users switch on and get virtual machines running in short order and tight integration aimed at ensuring users can spend more time on value-adding stuff instead of keeping the lights on.
For starters, the two companies have a design for a VersaStack with two IBM Storwize 7000 arrays on board. Before long IBM will validate DB2 and WebSphere to run out of the (multiple) box(es), and expects that over time it will add integrations for other software. We've also been told that ESXi is only the "first" supported hypervisor, although other operating environments weren't mentioned in the web conference.
Just how this rig differs from other integrated infrastructure wasn't explained, other than to say that the Storwize 7000 is differentiated from arrays used in similar integrated infrastructure rigs, principally through realtime compression and tiering.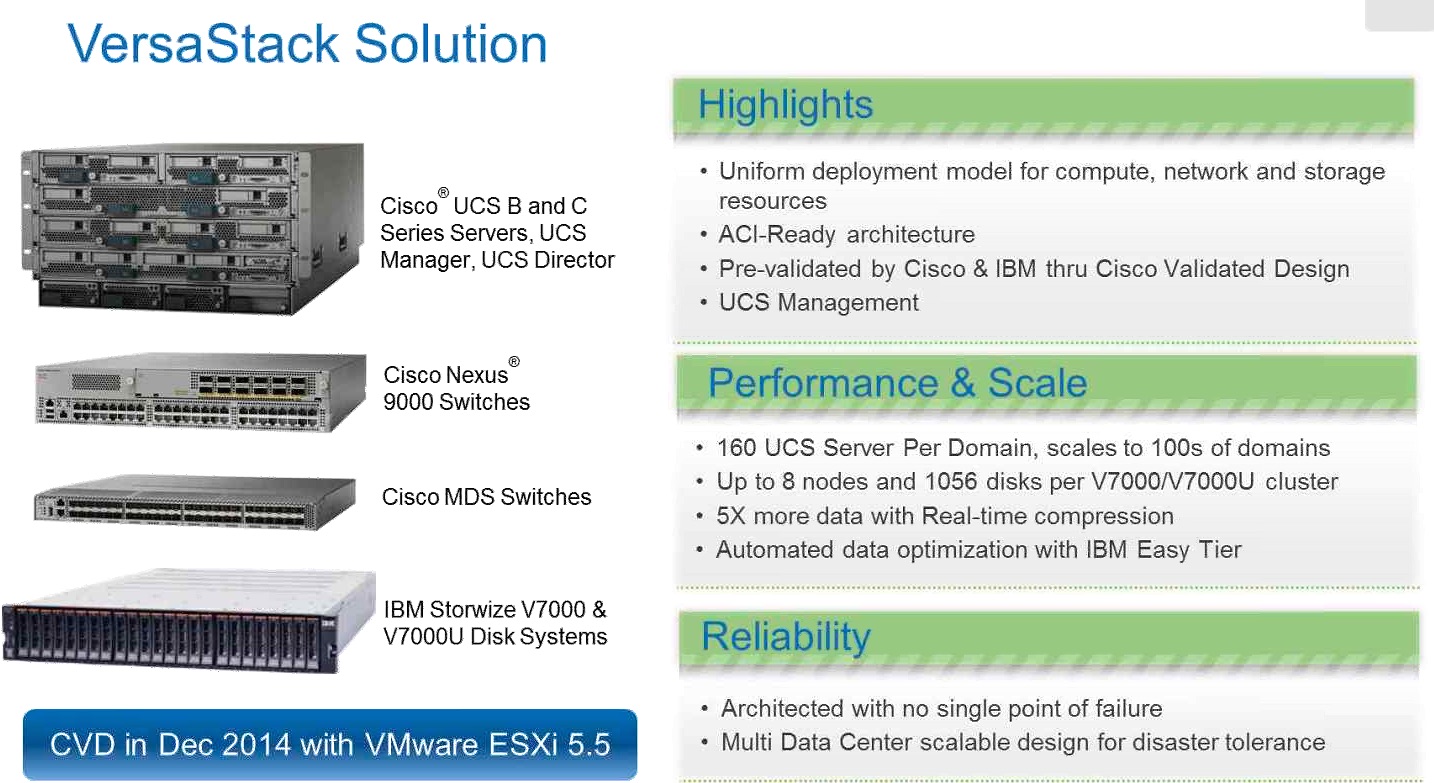 Ingredients of a VersaStack. Click here to embiggen
VersaStack pilots have apparently already run with 15 big mutual IBM and Cisco partners and customer feedback has been fulsome. The two companies think opportunities exist to upsell to each other's base: IBM thinks its storage customers will be keen and Cisco thinks some UCS owners will like the idea of increased integration. Both companies' channels are expected to be keen: they get to build and sell the rigs and even act as tier one support if they want.
An entity likely not to be keen on this new alliance is NetApp, whose FlexPods do look an awful lot like the VersaStack.
EMC has less to worry about: its VSPEX integrated rigs aren't very different to VersaStacks but subsidiary VCE's vBlocks' niche is unchallenged by this new alliance.
One peculiarity from the briefing was a promise that VersaStack will help organisations move from capital expenditure to operational expenditure. Just how wasn't explained, but Cisco does offer a blank page titled "VersaStack financing" which may go some way to putting flesh on the bones of that promise.
There's also lots of actual detail in this VersaStack design guide [PDF].
Does VersaStack matter? Cisco's shown, over the years, that it's keen to find lots of ways to sell UCS. With IBM out of the x86 game, Big Blue finding a new way to sell x86 servers is therefore also unremarkable. But this is new and welcome territory for IBM's storage sales, which aren't setting the world on fire. ®