Guy Kawasaki's guide to social media, Hanif Kureishi's cash crash catharsis and more
Tweeting for n00bs plus fraudsters and fakes
---
Page File El Reg bookworms Lucy Orr and Mark Diston look at publishing's quirkier offerings this week. We have Guy Kawasaki and Peg Fitzpatrick on how to catch the "social disease", Hanif Kureishi on how to lose a personal fortune, and the hilarious CD Rose on how to sink without trace in publishing.
The Art of Social Media: Power Tips for Power Users
After being drawn in by the promise of some sage advice from Guy Kawasaki – a bit of a legend in Silicon Valley due to his work with design platform Canva – unfortunately, I was instantly put off by the titles of chapters such as: "How to rock a tweet". Guy, you sound far too much like an awful trying-too-hard-to-be-cool annoying Dad.
Still, the chances are you use some form of social networking – I know I do. If you don't see a selfie of me hanging out at The Four Quarters in Peckham on a Friday night, there's definitely something wrong. And who doesn't dream of more followers on Twitter or YouTube to attract a PewDiePie-sized paycheque?.
Guy has 6.7 million followers on Google Plus and 1.5 million followers on Twitter so, against my better judgment, I continued reading just in case some of this social media fairy dust might rub off on me.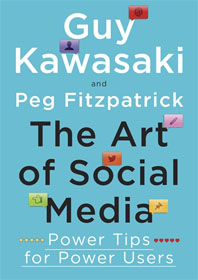 The book starts by showing you how to present yourself with a visually acceptable public profile; they obviously haven't met me – I now have tattoos on my hands, putting me firmly in the hipster criminal demographic. It then goes on to describe (with chapters as bullet points) content creation, curation and best practice when sharing across different social media channels.
There are 123 numbered tips and tricks but they are often lacking any real depth – though I did enjoy the large illustrations and screen grabs. I can see how the ebook version, embedded with a trillion URLs, could act as a very handy social media reference guide.
It seems to me that the overriding philosophy of the book is that to be successful in social media I need to bold, brief and add some kind of monetisation to my posts and this book gives me an insight into which tools and sites can monitor, manage this monetisation of my public persona – just call me Lucy Zuckerberg.
These two social media evangelists Kawasaki and co-writer Peg Fitzpatrick – this book does come across all Alpha Course – certainly complement each other in experience, style and knowledge. I can see how it could be helpful to those lost in the social media maelstrom, but being told, "If you're not pissing people off on social media, you're not using it aggressively enough" seems like some kind of Troll charter.
This is quickly followed by "How to socialise events", which makes me feel like I should go all LinkedIn down the pub. Guy seems to contradict himself when he says: "Only losers and charlatans buy followers, likes and +1s" as most of the book seems to be about doing just that but by surreptitious means.
I read this book from start to finish in a couple of hours and unfortunately it comes across as rushed but maybe that's just the nature of any content related to social media. Following Guy's advice to jump on new platforms and having just received my ello invite... cynicism be damned, I might start putting some of his tips into practice. That said, The Art of Social Media feels too much like an overly technical New Age self-help book for grannies, which is already obsolete. LO

Author
Guy Kawasaki and Peg Fitzpatrick
Title
The Art of Social Media
Publisher
Penguin Books
Price
£9.99 (Paperback), £6.99 (eBook)
More info
Publication website
Similar topics
Narrower topics