Vulture at the Wheel Car buffs of a certain age will remember how the great motoring writer L. J. K Setright loved the Scirocco Mk I Storm.
To those who loved engineering prowess, the Scirocco was something special. Even if the brakes were a bit shoddy.
But the Scirocco Diesel here is a very different beast; this is a car for my friend Michael. Michael is not a car buff. When his last car was written off in a spectacular accident, he asked me what to get next.
He had a spec list: it needed to be practical, and quiet, the audio system was important, and it mustn't have a prestige badge, so if the perfect car wore a three-pointed star or leaping cat it would be off the list.
He wanted occasional back seats, and fuel economy was also very important. He had a budget and regarded a car as something you buy to get to places, not an object to be appreciated in its own right. Driving dynamics, which wheels were driven, power output or performance specifications were all unimportant. It sounded like he wanted a Prius.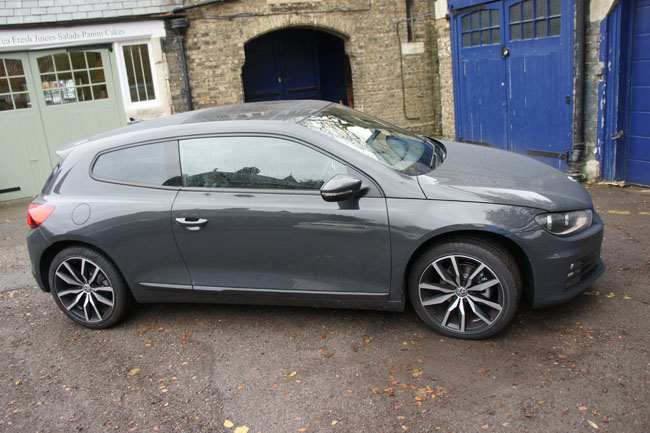 A side view of the Scirocco
"But Mike," I said, let's look at what you've owned in the past. The car which had met an unfortunate end was a Hyundai coupe. The previous car to be written off was an Audi TT - it was parked outside his house at the time. Before that he'd had a Celica and a Mazda 323 with pop-up headlights. "What you say you want, and what you've bought, are pretty different".
To him, what a car looks like, the lines, are important. I needed to recommend something that reflected both what he said and what he did. A sheep in wolf's clothing.
If the Scirocco diesel had been around at the time he was shopping it would have fitted the bill perfectly. It does look good. The 'I'm wearing Oakleys' glass, and raked nose. But inside it's a Golf. It has all the good qualities of a Golf, bar one. It's very well made, the ergonomics are great, it's just a pain to get into the back.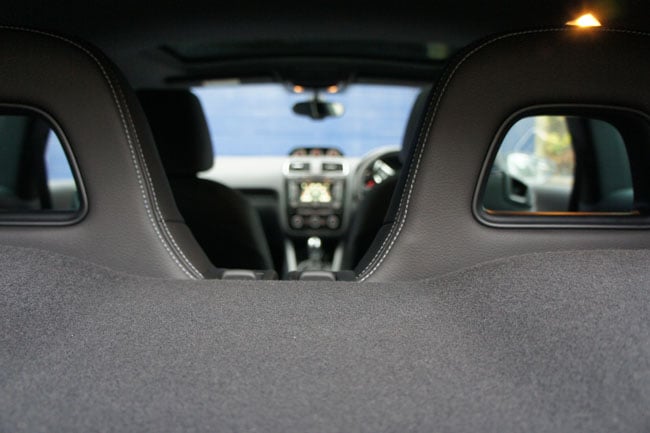 The view out back is a little limited
Oh, perhaps there is another difference. Rear visibility is poor, but the rest of Mike's spec is there. It's teutonically solid and the audio is great. It's not quick despite having 251lbs/ft of torque and 148BHP, but it's heavy at 1.47 tonnes. That translates into 0-62 time of 8.6 seconds and a claimed top speed of 132mph in the DSG auto equipped version I was testing.