This article is more than 1 year old
Why, hello there, Foxy... BYE GOOGLE! Mozilla's browser is a video star
Online face interface minus the vendor lock-in
Review Firefox 34, just released, adds support for Mozilla's web-based Skype-competitor, Firefox Hello. Firefox 34 also drops Google as the default search engine for US users, gives Mac fans the ability to play native H.264 video and eliminates a major security vulnerability.
Phew! But is it any good?
This is the first version of Firefox to ship with full support for WebRTC, the technology behind the browser-based video and audio calling tool, Firefox Hello.
Firefox Hello is a bit like having Skype or Facetime right in your browser, but with one major difference – the person you're calling doesn't need to use the same application. With Firefox Hello, all the other person needs is a WebRTC-capable browser like Firefox 34, Google Chrome or Opera.
That eliminates the headaches that arise if, for example, you've got Skype but your family prefers Facetime and your employer wants everything to happen over Google Hangouts.
With WebRTC and the Firefox Hello interface, everything is web-based. Replacing a desktop app with something web-based often means a series of compromises and half-working features, but that's not the case with Firefox Hello. In my testing, Firefox Hello just works and is very simple to use.
All you need to do is click the new Firefox Hello icon (the little chat bubble in your toolbar) and then hit the button to "Start a conversation". That will generate a link which you can click to open the video call in Firefox and copy and paste to the person you'd like to call. That's it.
If you'd like, you can create an account and have a contacts list that works just like what you're used to with Skype and Facetime. One shortcoming of WebRTC is you can't dial actual phone numbers as you can with Skype, though even with Skype that's not a free feature.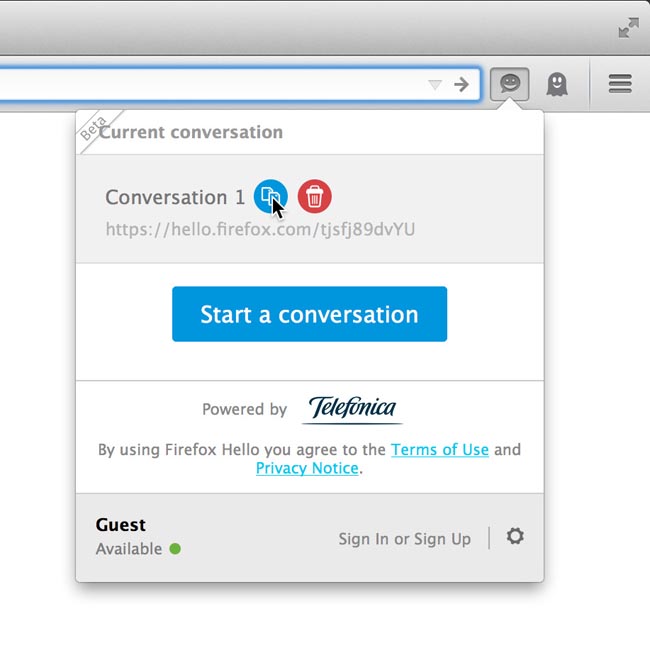 WebRTC in Firefox lets you video chat without everybody needing the same client software
The call and video quality of Firefox Hello will depend on the network you're using, but that's also true with Skype, Facetime and Google Hangouts. In my tests even less-than-ideal coffee shop networks were plenty fast enough for decent video connections through WebRTC.
The only real problem with WebRTC as a Skype or Facetime replacement is the two conspicuously absent browsers - Safari and Internet Explorer. Perhaps not coincidentally the two browsers missing WebRTC support also happen to be made by the companies that make Skype and Facetime, Microsoft and Apple, respectively.
For its part, Microsoft has said future releases of IE will add support for WebRTC. So far Apple has been characteristically silent on WebRTC in Safari. Behind the scenes, however, the company has joined the W3C WebRTC Working Group, which might mean that support is somewhere on the horizon.
For now though, if you want platform-free chat and video calls, grab a copy of Firefox 34, Chrome or Opera.
The other big news in Firefox 34 is Mozilla has dropped Google as the default search engine. Instead, users will find their search queries passed to Yahoo!. It's pretty easy to get Google back, just head to the preferences pane, click the search tab and change the default search provider. Note that, it appears that if you had already changed the default search provider from Google, updating to Firefox 34 will not change your settings. You'll only land on Yahoo when installing a new copy of Firefox.
This release is also the first version of Firefox for OS X that can play native web video in H.264 containers. That should eliminate the need for Flash to watch videos in most cases thanks to widespread support of the H.264 codec. H.264 is not a free (as in beer) or open-source codec and for a very long time Firefox held out in hopes that the Google-backed WebM format might gain some ground.
Sadly, WebM never really caught on and Mozilla long ago made the pragmatic decision to support H.264. In fact, Windows users have had support for some time, but this is the first release that lets OS X users in on the H.264 fun.
Firefox Hello is great, H.264 support is welcome, but perhaps the best reason to upgrade to Firefox 34 is that Mozilla has disabled support for the SSLv3 protocol. Google also ditched SSLv3 support in Chrome after the company discovered a serious security flaw in the aging protocol. Known by the innocuous-sounding acronym, POODLE, the flaw allows an attacker to steal "secure" HTTP cookies. With Firefox 34 out the door only Internet Explorer is still vulnerable to POODLE.
With dev-friendly aspects including more support for Web Components along with HTTPS and some HTTP/2 support, Firefox 34 is a decent update. ®