The world of 5G remains confusing – even to the carriers who we've been told are demanding the new standard as quickly as possible, it seems.
With 4G penetration standing at just five per cent of the world's connections, a shortage of spectrum available for new standards, professional scepticism and plenty of hype, 5G has apparently become the hall-stand from which every passing enthusiast, vendor and visionary hangs their particular obsessions.
The global carrier industry association, the GSMA, has put together its view (PDF) of what the future looks like, and like the fabled elephant described by the blind, the description of 5G depends on which bit you grab.
It is, therefore, no surprise that in putting together some kind of industry consensus view of the 5G future, the GSMA finds itself just as challenged as most of the press, noting for example that if it gathers together the things everybody believes should be considered requirements, they "do not make an entirely coherent list".
Here's the list the GSMA is referring to:
1-10 Gbps connection speeds "in the field";
Millisecond latency;
1000 times today's bandwidth "per unit area";
Up to 100 times as many connected devices;
Five-nines availability (or at least something the users believe is five-nines);
Enough coverage that users believe it's 100 per cent;
Cutting network power demands by 90 per cent; and
Ten-year battery life for M2M-type "Internet of Things" devices.
The group notes that there isn't any "use case, service or application" needs all of these requirements to be met, and that some of the requirements (such as coverage and availability) aren't particularly characteristics of 5G networks.
Whatever emerges as 5G, the paper sensibly states, the key factors deciding which of these requirements are met – or whether a requirement is met at all – will come down to whether there's user demand, and whether the carrier has some hope of making money out of a service.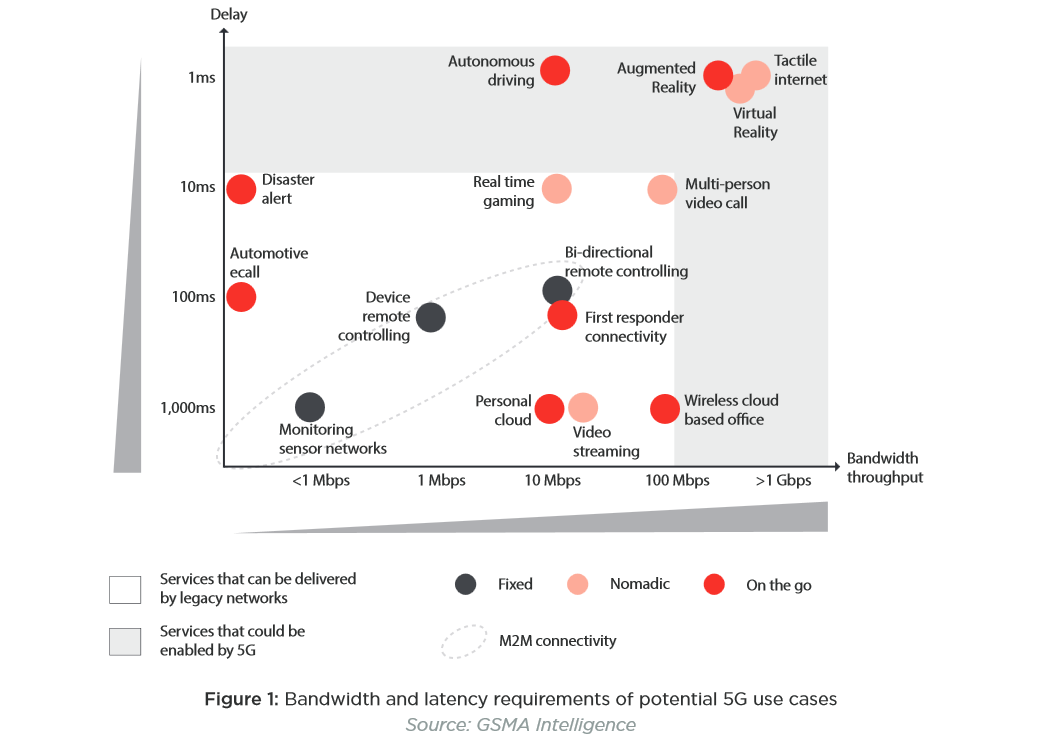 The GSMA's view of which applications will need 5G. Source: GSMA Intelligence
And interestingly, of all the application types the GSMA was able to assemble, only a handful of the most futuristic can't be delivered on existing networks – autonomous vehicles, augmented reality "on the go", nomadic virtual reality, and nomadic haptic ("tactile Internet") applications. ®