Assange's WikiLeaks: Give generously this Xmas – for statue of our dear leader
Julian to grab spotlight in 'courage monument' (w hangers-on Manning, Snowden)
---
Julian Assange has alerted Wikileakers to an important Kickstarter campaign that aims to create a bronze statue of the snowy-haired founder, billed as a "monument to courage".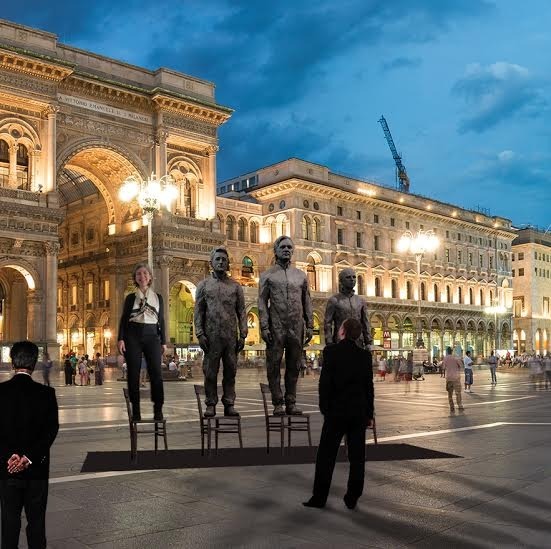 How the statue will look if they can get another £80,000
The proposed artwork, which needs £100,000 to be realised, will feature bronze idols of Assange, Chelsea Manning and Edward Snowden standing on chairs, with a fourth empty chair for members of the public to stand on so they can be shoulder to shoulder with the courageous duo trio.
According to the Kickstarter campaign, the sculpture is to be made by artist Davide Dormino in one of Italy's most prestigious foundries in Pietrasanta in Tuscany. The funds will go only towards casting the bronze artwork and transporting it around the world for display.
The work won't just be "a simple homage to individuals, but to courage and to the importance of freedom of speech and information", the campaign page said.  Of course, none of that will be possible unless the campaign raises some cash, which may be why Assange used the official WikiLeaks Twitter account to point out the project a couple of times.
Kickstarter campaign launches to build a monument to courage: https://t.co/DVZbnaG35B

— WikiLeaks (@wikileaks) November 14, 2014
Life size statue of #Assange #Manning & #Snowden on 3 chairs + empty chair 4 us: £19,130 pledged £100K needed by 1/1 https://t.co/FR92g71HQz

— HawaiiFOWL (@HawaiiFOWL) December 10, 2014
However, WikiLeaks took offence at the idea that its tweet of the campaign was evidence of Assange's heavy endorsement.
@Independent A retweet by WikiLeaks does not equal Assange "spear heading" a funding drive--but you knew that.

— WikiLeaks (@wikileaks) December 10, 2014
The Kickstarter had only managed to raise £19,361 of its goal at the time of writing, with just 21 days to raise the rest of the £100,000.
So how about that Chelsea Manning Defence Fund, eh? ®