This article is more than 1 year old
Cloud Printing from a Chromebook: We try it out on 8 inkjet all-in-ones
Scanning? We've heard of it, says Google
Product Roundup If you're thinking of getting a new printer and already have Macs or Window PCs then selecting a model that will work isn't exactly a challenge. But - what if you add a Chromebook to the mix? Increasingly popular and likely to be under the tree for many this Christmas, have you stopped to think about how you will print from one? Trust me, you will need to print at some stage and most will look to Google's Cloud Print service to handle this for them.
Although you can connect just about any printer to Google Cloud Print, conventional printers need to be connected to a Mac or PC with Internet access to get cloudy. A Cloud Ready printer doesn't need a conduit computer and handles print requests itself. So if you're shopping for truly multiplatform printer, here's a round-up of eight Cloud Ready machines from the top four makers, in two different price ranges – up to £150 and between £150 to £300 – to make your choices easier.
It's worth mentioning that, from this test fest experience, Cloud Print proved to be somewhat hit and miss. From the results on paper, I didn't get a single print-out using Google's Chrome OS that approached the quality you'd get from a cabled, Wi-Fi Direct or ePrint connection from a Mac or Windows PC. Controls are very basic: without, for example, the ability to select plain or photo paper, or the source paper tray.
While all these printers can produce reasonable renditions of text documents, Cloud Print is still some way from producing reasonable photos. The main feature missing from the print controls of Cloud Print is directing print to a specific paper tray, so you can choose to print on photo paper. Printing can also be very slow compared with a local connection, cabled or wireless as our benchmark tests reveal later in this round-up.
The printer tests were performed using a Toshiba CB30-102 Chromebook – a fine example of the breed. Thanks to the folk at Toshiba UK's PR agency for the loan unit.
Brother DCP-J4120DW

The entry-level machine in Brother's range of "Occasional A3" all-in-ones has a surprisingly good feature set including duplex print, USB, SD and MemoryStick slots, touchscreen control and a secondary feed slot for single sheets up to A3.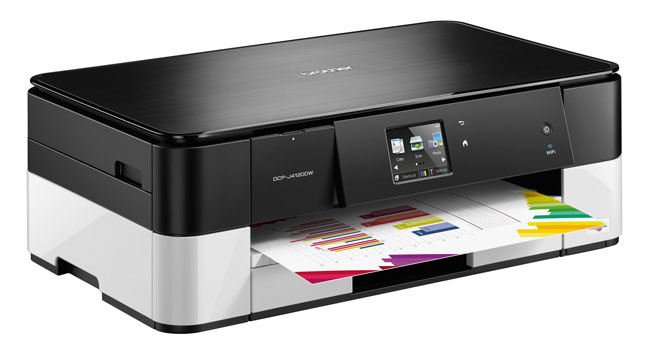 The printer feeds pages in landscape orientation, which is a clever trick as it reduces the printer's footprint, but also makes it noisy when feeding sheets. Print quality is fair, though characters can be a bit rough round the edges compared with the thermal inkjets from Canon and HP.
Print speeds using Cloud Print are good and consumable costs compare well with immediate competition, making it good value overall. For £13 more, however, you can get the Brother MFC-J4420DW, which includes an ADF and fax.