HP ENVY 7640

You could be forgiven for mistaking this printer for its sibling, the ENVY 5640, but the 30-sheet ADF on its scanner and the glass front with inset 89mm touchscreen distinguish it. The screen is particularly good to use, with a light touch and gesture support.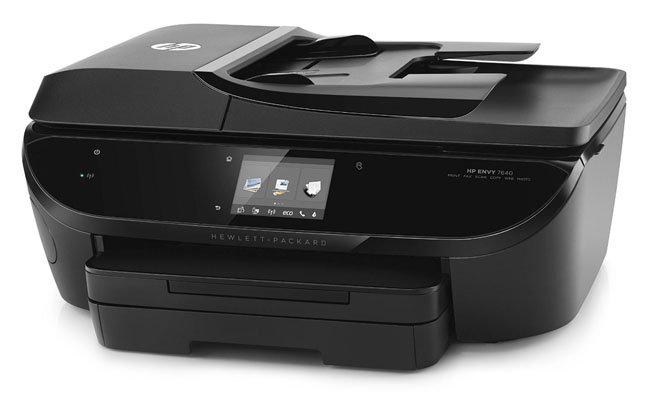 Locally you can print via Wireless Direct and AirPrint, with quick connection via NFC, but you can also use ePrint, HP's pioneering Cloud-based print service.
Even using the Cloud Print beta software, which offers tray selection and print quality settings, it refused to print on paper from the photo tray and would only print the photo image on plain paper. It did this very quickly, but it wasn't really what was wanted. The five-page job, which was fine, completed in exactly one minute.
A good printer, but not an ideal match for a Chromebook.
Benchmark Tests
The benchmark charts show two distinct timings. The Start time indicates how long it takes for the file to pass from the Chromebook, through the Cloud Print servers and down to the printer, for the printer to receive the file and for the first page to start to feed and commence the actual printing process. The End time is when the last page finishes in the output tray.
These figures highlight that the physical printing – which is the only time quoted in the speed figures provided by manufacturers – is typically only a small part of the overall time to get the pages out.
All-in-One Printers below £150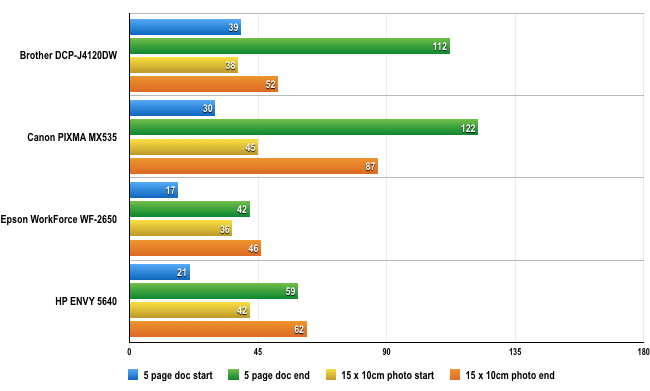 Timed printing durations – shorter bars are better
Although shorter bars indicate swifter printing, the low cost Canon delivered a poor quality photo print and the Epson output a very small image.
All-in-One Printers above £150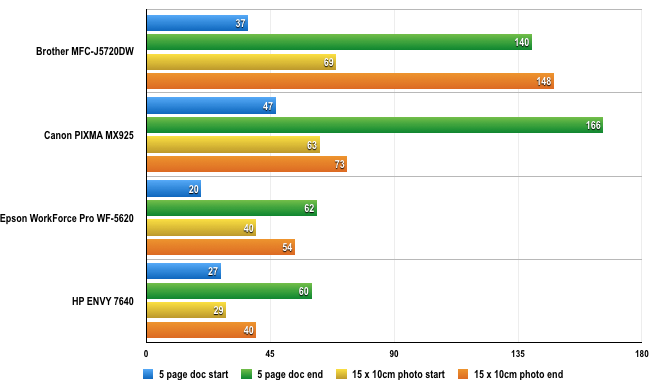 Timed printing durations – shorter bars are better
These more expensive models were less troubled by print quality although once again the Epson produced a very small photo image. Selecting paper size and trays was also a problem on most models indicating that the Cloud Print platform is still very much work in progress for manufacturers supporting printing from Google's Chrome OS. Oh, and if you were wondering about scanning from these all-in-ones using a Chromebook - it's in the works. Codenamed Lorgnette, this feature is still in development at the moment. ®