Roll up, roll up for Oracle database flash tune-up – Violin
Faster DBs to be won
Comment Violin Memory has developed software to tell you how tune Oracle databases to run faster on its arrays, and is making it available through a lead-generation exercise where you (pretty much) qualify yourself.
Its Oracle Performance Analysis Service (O-PAS) is free to end-users and resellers and generates reports which identify "performance bottlenecks in end users' Oracle environments, and determines the suitability of flash-based storage ... to ... increase IOPS, reduce latency, and lower overall costs".
Report topics include:
"CPU vs. I/O wait time: if the time spent waiting on I/O is higher than the time spent working on the CPU, the database may be impacted by the performance of the storage system, leading to under-utilised CPUs and excessive CPU costs."
"I/O wait overview: an overall indication of whether the existing storage is impacting database performance, and potentially, causing poor end user experience."
Time lost waiting on I/O: an indication of how much time is wasted waiting for I/O calls to complete during busy periods."
To get hold of a copy fill in an online form, generate the text-format reports as requested, using Oracle Database's 'Automatic Workload Repository' (AWR), and then "create a single zip file containing all reports and upload" to Violin using the Submit button on the form.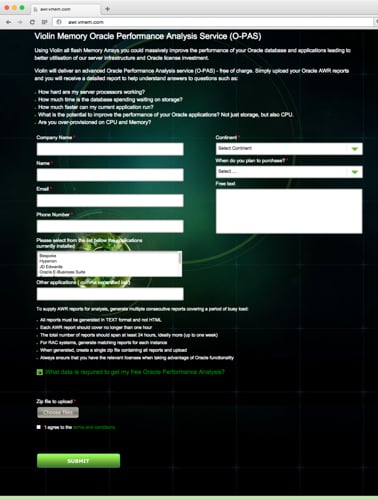 O-PAS online form
The people with Oracle skills at Violin analyse your reports and "determine the suitability of a memory-based storage system," meaning Violin boxes.
If it's promising, you'll surely be contacted by a Violin channel person happy to give you the good news. Clever, clever Violin.®