Tides of Maritinia: The spy who jumped into a sci-fi water world
Bumbling morality tale gets interplanetary update
---
Page File When Tides of Maritinia first kicks off, it's a bumbling-Brit-abroad, Evelyn Waugh-style tale of a stuffed-shirt bureaucrat literally moulded into a secret agent, but it evolves into quite a tragic story of the misdeeds of war and one man's struggle to find his moral compass.
Jakob Bryce is the lead for Warren Hammond's first standalone sci-fi book outside the KOP series, a seemingly ineffectual pen-pusher that's been surgically turned into a doppelgänger for the leader of a planetary-wide revolution against the all-powerful Empire.
The watery world of Maritinia, kept technologically and scientifically ignorant by its overlord and left more or less alone to farm endless oceans of kelp, has taken it upon itself to rebel, led by traitorous Empire official Colonel Kell.
To win back the planet and avoid any of the many hundreds of others in the Empire getting the idea that self-rule could be a goer, the Empire's secret agency E3 has dispatched Jakob to take Kell's place, sow dissent and malcontent and await the arrival of reinforcements to bring the planet back under the Empire's thumb.
Along with the surgical makeover, E3 has also implanted a "political officer", known to Jakob as Pol, inside his mind. This emotionless companion, who has access to Jakob's eyes and ears but not his thoughts, is there to help him along with his mission – whether he wants it or not.
Having grown up in the Empire's capital as the son of a loyal spying dynasty, Jakob is initially loyal to the core to "the Sire", the godlike head of state. But immersion in Maritinian culture and society soon has him wondering which side he should really be on.
There's nothing particularly new in this tale of a first-time spy wondering if he's on the right side of a war, but the sci-fi twists are a lot of fun. Changing Jakob to look like a member of the revolutionary government puts him straight into the action within a couple of pages and the cases of mistaken identity and uninformed errors that ensue are exploited for their obvious humour.
Although the beautiful and deadly ocean planet of Maritinia doesn't make much sense a lot of the time, it is a fun place to explore and Jakob's fascination with the place is easy to understand.
If that was all there was to the book, it would be an enjoyable yet predictable read, but Hammond allows things to get pretty dark as the book progresses. Jakob approaches his early forays into the more violent side of his work as distasteful but necessary chores, but as time goes on and he comes to know the locals better, he starts to take their lives more seriously.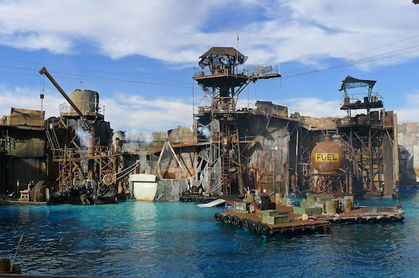 It's a water world kind of like this Water World at Universal Studios Los Angeles. Credit: Universal Studios
From there, the story switches rapidly from the foolish fish-out-of-water vibe into a much more serious and dark take on tyranny and war. Although the latter is certainly interesting, the switch-up is a little too jarring and the brutal twists at the end of the story seem to come out of nowhere.
The tone may have needed a defter touch to marry the two halves of the novel, but Tides of Maritinia is still an entertaining read, a slick fast-paced spy thriller that just happens to be set on another world. ®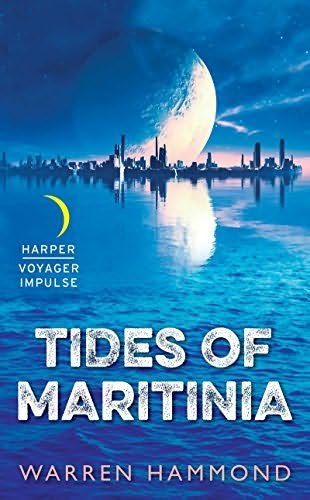 Author
Warren Hammond
Title
Tides of Maritinia
Publisher
Harper Voyager Impulse
Price
£1.99 (Ebook)
More info
Author web site