Twitter co-founder: 'I don't give a SHIT if Instagram has more people looking at pretty pics'
We make more money, m'kay?
---
Twitter co-founder Evan Williams has attacked Facebook for getting money men too hung up on monthly user metrics.
When quizzed by Fortune magazine about the recent claim that the Facebook-owned photo-sharing site Instagram was now used by 300 million netizens, Williams hit back at how the numbers were presented.
He also – some might say bitterly – noted that Twitter, which is still struggling to turn a profit, pulled in more bucks than Instagram.
Williams had a pop at the use of the monthly active users (MAUs) metric to highlight growth on a given network.
He told the mag:
It's a question of breadth versus depth. Why is users the only thing we talk about? The crazy thing: Facebook has done an amazing job of establishing that as the metric for Wall Street. No one ever talks about, 'What is a [monthly active user]?'

I believe it's the case that if you use Facebook Connect – if you use an app that you logged into with Facebook Connect – you're considered a Facebook user whether or not you ever launched the Facebook app or went to Facebook.com. So what does that mean? It's become so abstract to be meaningless. Something you did caused some data in their servers to be recorded for the month. So I think we're on the wrong path.
However, in October it was a different story for Twitter boss Dick Costolo when he told financial analysts that MAUs were "the fuel that powers the entire system."
At that point, Twitter had hit 284 million global MAUs and Costolo clearly believed that this was a metric worth squawking about.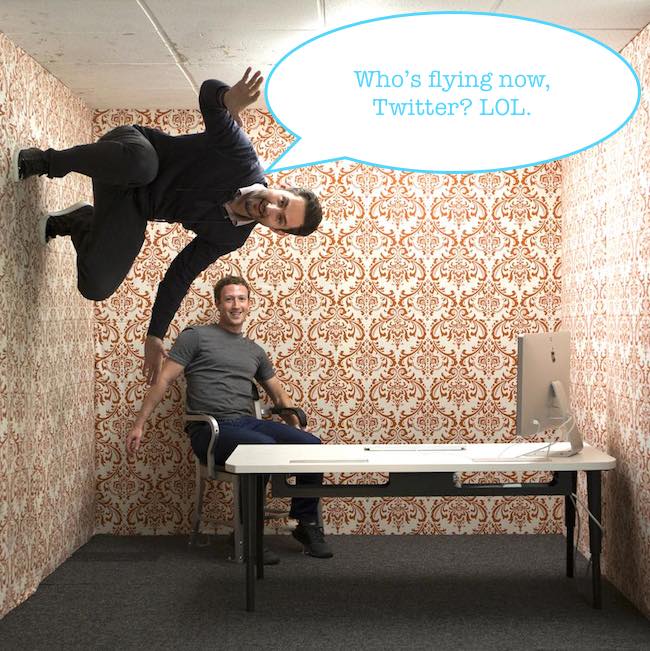 El Reg gently reimagines this scene created by Mark Zuckerberg and Instagram chief Kevin Systrom
Williams added in his jibe against Facebook:
If you think about the impact Twitter has on the world versus Instagram, it's pretty significant. It's at least apples to oranges. Twitter is what we wanted it to be. It's this realtime information network where everything in the world that happens on Twitter – important stuff breaks on Twitter and world leaders have conversations on Twitter.

If that's happening, I frankly don't give a shit if Instagram has more people looking at pretty pictures.
Yes folks, Twitter is way more worthy than the tea-stained photographs of grumpy-looking cats. ®