This article is more than 1 year old
The STEALTH Plug-in Hybrid: Audi A3 e-tron Sportback
You wouldn't know it was an EV ... except it might use NO petrol
Vulture at the Wheel It would have been difficult for Audi to launch an electric car differentiated more from BMW's. Whilst the BMW i3 has been styled and engineered to look and perform like something from another planet, the new A3 e-tron most definitely has not.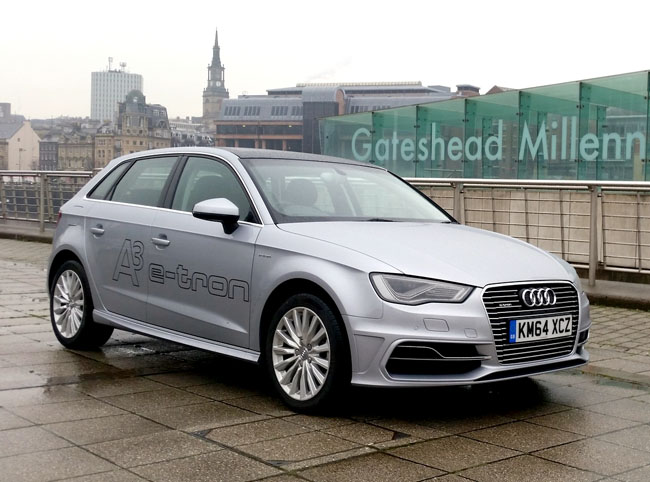 Bar the stickers, the e-tron looks like any other Audi A3 Sportback
This is Audi's first production 'leccy car since it announced it would not be mass producing the all-electric concept e-tron coupe or the design-study Wankel rotary-engined A1 e-tron range extender.
What we have here is something that – if you removed the e-tron badges, taped over the interior decals and didn't rummage around too deeply in the display menus – you could get in and drive from John O'Groats and Land's End and not notice it was an EV at all.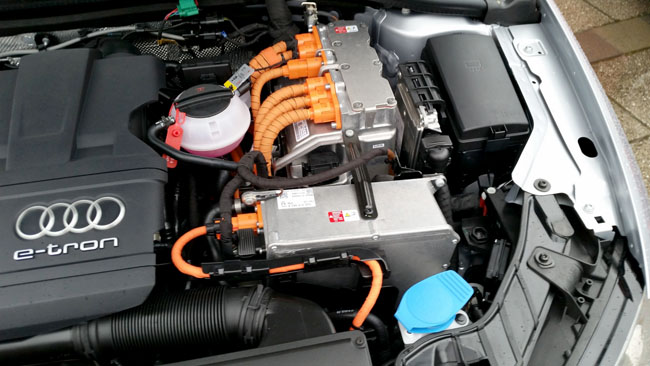 Under the bonnet you'll find petrol engine to the left and leccy motor gubbins to the right
Of course, this is entirely deliberate. Audi thinks the path to electric motoring is not to scare the horses but still to bundle some cutting edge drivetrain technology under the bonnet. That's why the A3 e-tron looks just like any other A3, right down to hiding the charge socket under the four-circles badge at the front - a place you'd never notice it unless you were looking for it and had been told its whereabouts to begin with.
The only clue to what's in play here is under the bonnet. Pop the hood, as the Americans say, and you'll see the high power electric cabling and associated 75kW electric motor which is coupled to a slightly modified 150ps 4-cylinder 1.4L turbocharged TFSI petrol engine.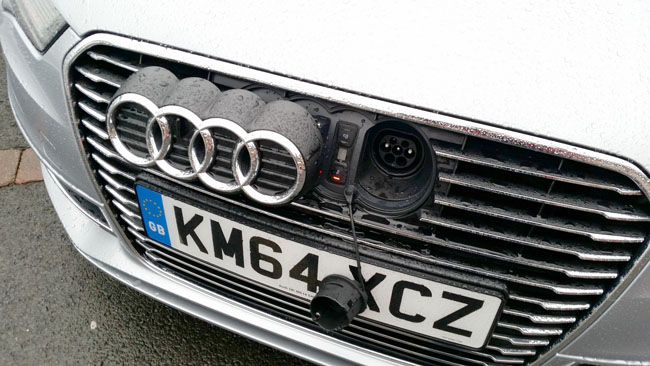 Charge socket well hidden
The electric motor draws its power from a 96-cell 8.8kWh Li-Ion battery pack that's buried beneath the rear seats. The 12V battery and its associated electrics, evicted from under the bonnet by the electric drive motor, now snuggle up alongside the fuel tank at the back. This means the new drive train set-up doesn't have any noticeable impact on the A3's front-to-back weight distribution