Theatre Review Rushing to place an order for The Original Folk and Fairy Tales of the Brothers Grimm illustrated by my amazingly talented friend Andrea Dezso, I was disappointed to find it's not released for another week. Luckily tickets to Phillip Pullman's Grimm Tales at the Oxo Tower were readily available, so I wouldn't have to wait to get my fairy tale fix.
Grimm Tales for Young and Old is a retelling of five of Grimm's Fairy tales, rewritten by Phillip Pullman, performed at the OXO Tower Bargehouse on London's South Bank.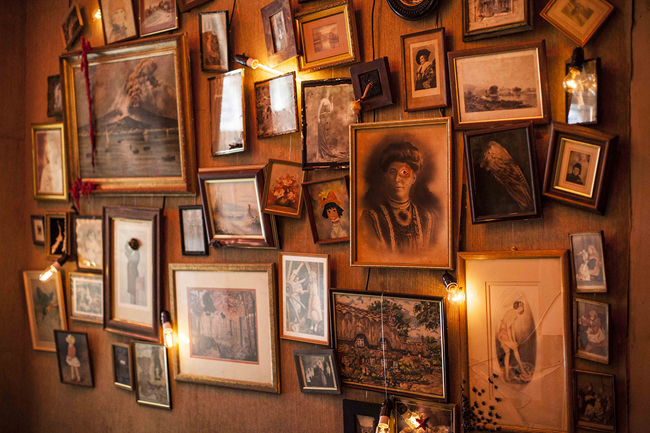 Setting the scene
Entering the building I'm suddenly transported to a sinister but enchanting fairy tale realm feeling just like Lyra from His Dark Materials and wishing a had a ferret handy to act as my daemon.
Subdued lighting and several pomegranate gin and tonics set the tone, as I entered a room full of stiff small beds that act as benches – an antechamber to the proceedings.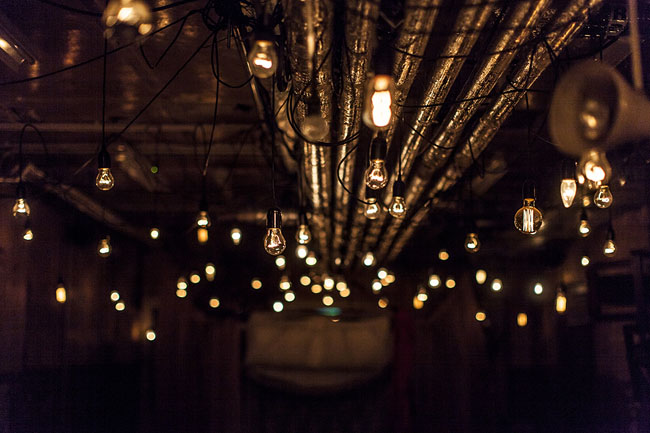 Light fantastic
A Gothic world of exposed brick, rusted metal and the smell of rubber, The Oxo Tower Barge House is decorated with vintage photographs, maps and a vast multitude of bare bulbs. Suddenly, a charming band of folk players wearing felted animal heads as hats appear playing music straight from The Wickerman.
During the five stories I travelled through what would become a maze of four floors. During the seamlessly self-narrated episodes the characters pause to act out their particular tale and then swiftly encourage me towards the next bewitching drama.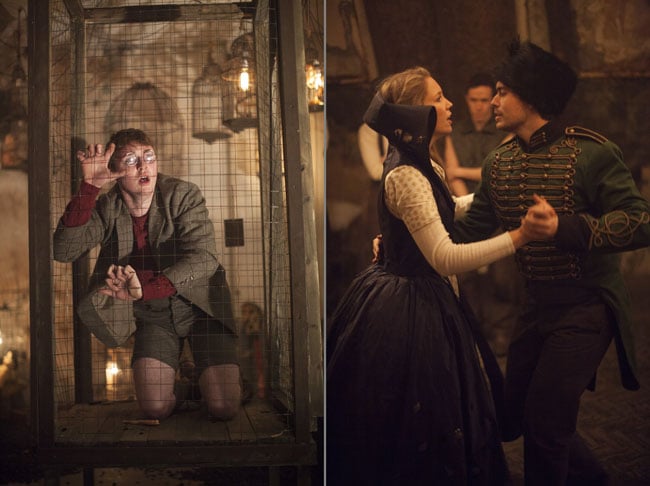 Taking the rough with the smooth: Joel Robinson (left), Megan Salter and Richard Mark (right)
Photo by Tom Medwell
To start us off with a shock and to remind all and sundry that they're not at the village panto, the first story begins with the tale of king Allerleirauh. His bargain with his dying wife – to marry only someone as beautiful as her – has him eyeing up his daughter. An unsettling theme to prime us for what follows. The last story ends in what could easily be mistaken for a concentration camp oven and fittingly included Hansel and Gretel, dressed in their 1940s finest.
The delivery of the performances was immersive and thoroughly watchable – even content that was on the taboo side – and was presented in a manner and pace for both children and adults, though slightly on the long side for the former. Just bear in mind the show is stated as being suitable for ages eight or older.
The Three Little Men – photo by Tom Medwell
The use of props such as the puppets from the Horse and Bamboo company gave the production a unique touch and were manipulated by the cast with real flair. I truly wish I had seen more of those Puck-like midgets.
The lighting and set design deserve a special mention because I felt truly transported to the Faerie realm. The bric-a-brac props, such as geese made of golf clubs and costumes coming across all charity shop/hipster/Aubrey Beardsley, were strangely both unsettling and endearing. Just beware of the rubber glove toads.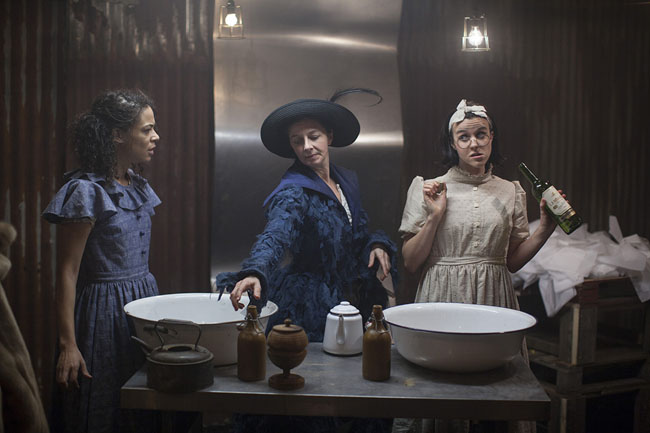 Grimm scenes: Sabina Arthur, Morag Cross and Kate Adler – photo by Tom Medwell
Grimm Tales for Young and Old blew me away with the sheer attention to detail. Though seemingly a low budget production, obviously full-tilt creativity was applied to the design and logistics of the show. I can imagine any child would be completely mesmerised. Standing out from this new and exciting genre of theatre, this is definitely a Christmas treat and truly a gothic Christmas grotto. ®
Phillip Pullman's Grimm Tales For Young and Old is currently showing at the Oxo Tower, London until Sunday 15th February.